Renewable Power Growth to Plateau After Record Gain in 2020
(Bloomberg) -- Global renewable power capacity growth is set to slow this year after a record surge in 2020 as government support programs expire.
Developers will build nearly 270 gigawatts of new green power capacity this year, down about 3% from 2020, according to analysis from the International Energy Association. While still higher than pre-pandemic growth levels, green power will have to develop much faster to reach the world's climate goals.
"Renewables currently are expanding rapidly, but it should be faster," said Heymi Bahar, a renewable energy analyst at the IEA. "If your target is net-zero, it has to be faster."
Green power was a rare bright spot in the economy last year, with renewable generation capacity expanding by a record 45%, according to the IEA. That was strengthened by a surge in China, the U.S. and Vietnam as developers rushed to take advantage of government assistance mechanisms that stopped at the end of the year.
For the next two years, renewable growth will remain roughly at the same level, the IEA said. The challenge of cutting emissions in the coming years is even greater now as not only do renewables need to replace coal and gas in power grids, but they need to keep pace as road transport and industry increasingly rely on electricity.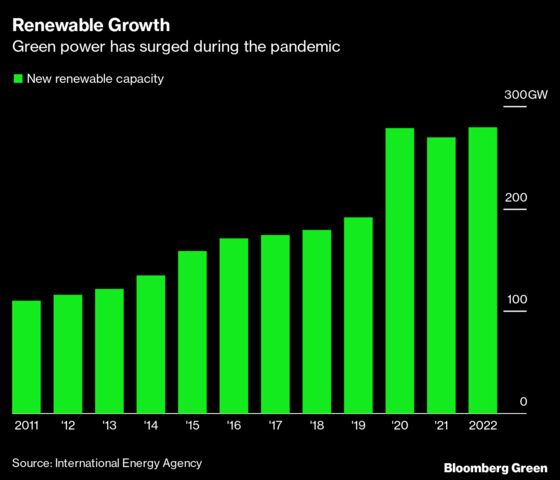 One of the biggest changes this year will be development in China. The country made up nearly half of the world's renewable power growth last year, adding more than 137 gigawatts of new capacity. That will fall more than 20% this year after a government subsidy program expired at the end of last year.
At the same time, other regions including Europe and India will see a sharp increase this year that will mostly offset China's decrease. Development in India was curtailed significantly last year due to economic restrictions to contain the coronavirus. It's not yet clear if the current wave of infections there will push green power development back again.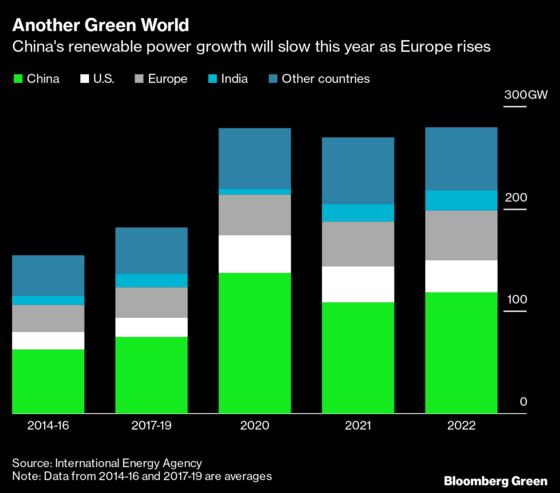 While renewables have become increasingly cost competitive with fossil fuel generation, the ups and downs of new construction show that developers are still closely following government subsidy plans.