Renault Wants You to Pop the Question Aboard Its Luxury Robotaxi
(Bloomberg) -- Renault SA says it has a robot shuttle designed to get you in the mood for romance.
The French mass-market automaker unveiled a concept Tuesday at the Paris Motor Show for a premium robotaxi designed to be sent by hotels or airlines to pick up clients. Renault, which is exploring new mobility usages with its concept vehicles, had already imagined a living room on wheels with the massive-looking Symbioz autonomous vehicle last year.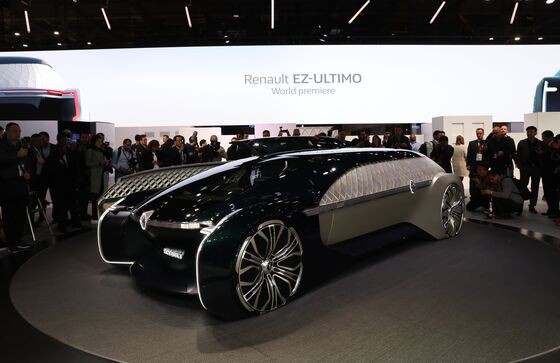 The EZ-Ultimo is all-electric and autonomous. It's meant to be offered as an on-demand service for private trips and premium ride-hailing offerings by travel companies and resorts, or for special occasions -- Renault suggests a marriage proposal or a reservation at a Michelin-starred restaurant.
The 6-meter-long (19.7 foot) vehicle is able to change lanes, keeps a distance from other vehicles and turn at a junction in a mapped traffic zone that's connected to infrastructure, including traffic lights and junctions, to anticipate obstacles, in addition to its built-in radars, lidars, cameras and ultrasonic sensors.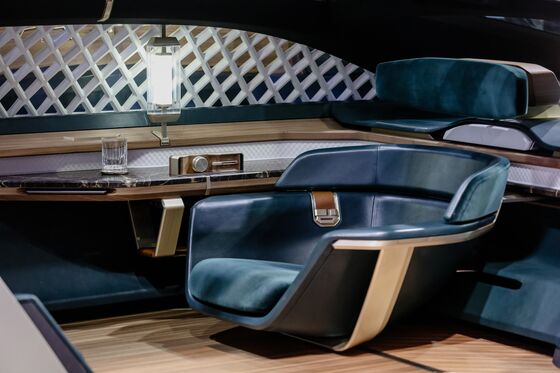 The EZ-Ultimo is designed for a luxurious ride. Its interior is paneled with wood, which Renault says is a nod to traditional Parisian Haussmann-style apartments, while the floor of the vehicle is covered with Saint Laurent des Pyrenees marble and the bench seat and armchair are upholstered in leather. Its two pale gold lamps with low-level lighting are meant to make passengers feel like they are in a cocoon, and the bodywork is made of a white ceramic structure with a mirror effect.
Renault, which owns ride-hailing platforms Karhoo and Marcel and offers car-sharing services with Ferrovial in Madrid, plans to introduce a robotaxi offer by 2022.
To be sure, carmakers use concept cars to demonstrate where they see technology going and Renault may never bring a product like the EZ-Ultimo into production. French rival PSA Group is showing an electric concept from its upscale DS nameplate that includes an espresso machine in an enclosed compartment for passengers and an open cockpit for a human or robot driver.