Renault Reports Record $8 Billion Loss
(Bloomberg) -- Renault SA's alliance with Nissan Motor Co. is showing increasing strain, with the Japanese partner mostly to blame for the French carmaker's record 7.29 billion euro ($8.58 billion) first-half loss.
Nissan alone accounted for 4.8 billion euros of that amount, including 4.29 billion euros of impairments and restructuring costs, the automaker said. Renault refrained from giving any financial guidance for the full year because of uncertainty around the coronavirus pandemic, though it said it is on track for cost savings and would put forth a turnaround plan in January.
The global car-making alliance, which also includes Mitsubishi Motors Corp., has been shaken to its core since the November 2018 arrest of Carlos Ghosn, who was chairman of all three companies. The partnership was meant create a global powerhouse to compete against Volkswagen AG and Toyota Motor Corp. But an aggressive strategy fixated on volume growth proved wrongheaded when auto sales began to decline, and management turmoil has plagued efforts to adjust. Losses are now piling up, further testing their union.
"The No. 1 risk to the alliance is Renault," said Koji Endo, an analyst at SBI Securities in Tokyo. "They're supposed to strengthen each other and offset weaknesses, but the risks are starting to look much bigger than the opportunities."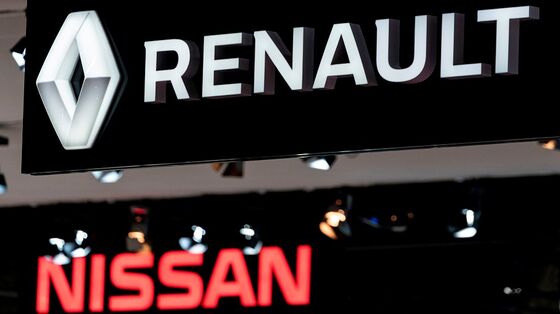 Renault shares plunged as much as 8.8% on Thursday and have fallen 47% this year.
Renault's vehicle sales plunged by more than a third during the first half, with showrooms and factories having shut for weeks due to the pandemic. The carmaker also missed out on a distribution that typically bolsters its earnings, with Nissan deciding to forgo paying a dividend.
Renault is working with Nissan executives "to make sure the fire doesn't take over the whole house," said Chief Executive Officer Luca de Meo, who took the reins earlier this month.
Nissan shares slumped more than 10% Wednesday after suspending its dividend and forecasting a far worse-than-projected operating loss of 470 billion yen ($4.5 billion) for this fiscal year. The Yokohama-based company, which posted its biggest loss in two decades last year, unveiled a cost-saving plan in May that includes cutting capacity and annual fixed costs by 300 billion yen.
Renault also announced a plan that month to eliminate about 14,600 jobs worldwide and to lower production capacity by almost a fifth in a bid to cut costs by more than 2 billion euros. About 600 million euros of that is forecast for this year.
De Meo will oversee politically tricky job cuts in France and execute a new strategy focused on value rather than volumes. During his first extended comments with analysts and journalists, he said Renault is "currently touching the bottom of a negative curve that started years ago."
"When the criteria becomes profit, it's clear we'll see the world differently," he said.
Renault, Nissan and Mitsubishi unveiled steps in May to foster deeper cooperation. Nissan will take the lead on autonomous driving, while Renault will do so with electric cars and powertrains and Mitsubishi Motors will work on plug-in hybrids, they said.
But the numbers released by the automakers this week show that they will need to bring in more cash and restore their balance sheets before making investments, even though they are critical to compete in the age of electrification and autonomous vehicles.
"I have no doubt" the alliance will survive, Deputy CEO Clotilde Delbos said in an interview on Bloomberg Television. "It's even more when we have difficulties that we see the necessity to share costs, technology and to be strong in our alliance."
Renault reported a group operating loss of 2 billion euros in the first half, compared with income of 1.52 billion euros a year earlier. Automotive cash burn was 6.4 billion euros.
The company turned to its most powerful shareholder, the French state, for help during the health crisis, accepting a government-backed credit facility of 5 billion euros. At the end of June, the carmaker said it held 16.8 billion euros of liquidity, compared with 10.3 billion euros on March 30.
Renault and Nissan are regrouping from a two-decade era of aggressive expansion under Ghosn, who has denied the charges of financial misconduct levied against him by Nissan and the Japanese government. After making a dramatic escape from Japan at the end of 2019 and making his way to Lebanon, Ghosn held a news conference in Beirut. "What we see today is a masquerade of an alliance," he said at the time.