Renault to Sell $1.4 Billion Daimler Stake, Maintain Partnership
(Bloomberg) -- Renault SA has sold its stake in Daimler AG for 1.14 billion euros ($1.4 billion) to secure funds for its turnaround efforts after a record annual loss.
The French carmaker exited its entire 1.5% holding in Daimler, according to a statement Friday. Renault divested its shares via a placement at 69.50 euros a piece.
Proceeds from the sale will allow Renault to "accelerate the financial de-leveraging of its automotive activity," the company said. Renault and Daimler have said their industrial partnership that dates back more than a decade will continue.
Renault warned investors last month of another challenging year following a worse-than-expected 8 billion-euro annual net loss. Chief Executive Officer Luca de Meo's daily battles to secure enough semiconductors to keep plants open are complicating his attempt to steer the company out of the rut it's been in since long-time leader Carlos Ghosn's arrest in late 2018.
Daimler shares have surged since the Mercedes-Benz maker announced plans early last month to spin off its truck unit. The stock closed Wednesday at a three-year high, valuing the company at 77.1 billion euros.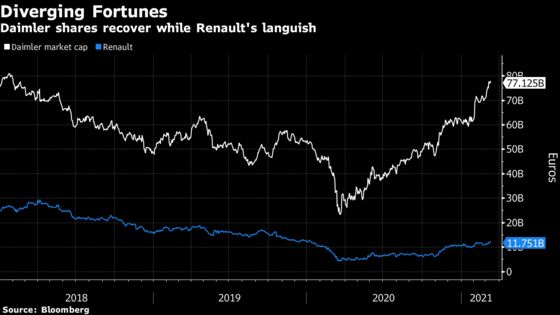 Renault informed Daimler in advance of its plan to offload its holding, a spokesperson for the German carmaker said. BNP Paribas SA and HSBC Holdings Plc are advising on the sale, according to people familiar with the matter.
Cashing in its stake in Daimler allows Renault to pay down debt and protect credit ratings that have been assigned a negative outlook by Moody's Investors Service, Standard & Poor's and others.
In January, de Meo laid out plans to gradually restore profit margins to pre-pandemic levels and generate a cumulative total of about 3 billion euros of cash by 2023. The company aims to bring in more than double that amount by 2025.
Renault and Daimler's cross-shareholding and partnership originated in 2010 under then-CEOs Ghosn and Dieter Zetsche. The two regularly hosted joint press conferences at car shows before Japanese police arrested Ghosn in late 2018 on suspicion of financial misconduct. Zetsche stepped down from Daimler the following year.
There may be less strategic rationale for the tie-up to continue. Daimler CEO Ola Kallenius laid out plans in October to put less emphasis on volume and take Mercedes more upscale to boost profits.
The two companies' past collaboration included working together on Smart ForTwo and Renault Twingo small cars. In early 2019, Daimler announced plans to team up with Zhejiang Geely Holding Group, its largest shareholder, to form a joint venture and transform Smart into an all-electric brand based in China.