Renault's Revenue Unexpectedly Shrinks as Rivals Recover
(Bloomberg) -- Renault SA's revenue unexpectedly fell in the first quarter as the French carmaker lagged behind European peers in recovering from the pandemic.
Sales slipped 1.1% to 10 billion euros ($12.05 billion), according to a statement Thursday, missing analysts' 10.14 billion-euro average estimate. BMW AG and Daimler AG, by contrast, have reported better-than-expected preliminary results for the quarter.
Renault shares dropped as much as 2.6% in Paris trading, extending their decline for the year.
A reliance on Europe and portfolio of mostly mass-market vehicles have dragged on Renault's prospects for bouncing back from the global health crisis. Many countries in the region including France are still struggling to control the virus and have kept lockdown measures in place. This has capped car sales growth relative to China, where Renault barely does any business, unlike German manufacturers Volkswagen AG, BMW and Daimler.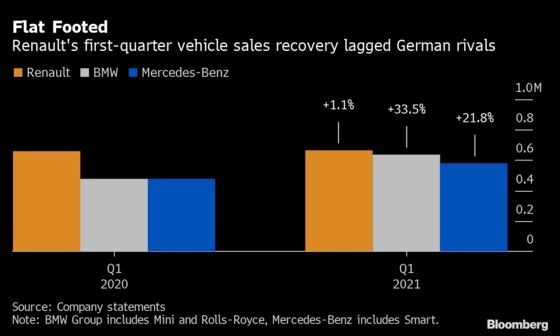 Renault refrained from offering financial guidance for the year because shortages in electric components have made production forecasts "tricky" and the pandemic is still affecting demand, Deputy Chief Executive Officer Clotilde Delbos said on a call.
The biggest hit on output will come in the second quarter, with lingering effects spilling over to the following three months, she said. A shortfall in output has reached "tens of thousands" of vehicles so far this year and the company has made production of higher-margin cars a priority.
Renault pared inventory by 26% from a year ago to 487,000 units at the end of March. Its supply of vehicles is still "well above" target, though that could be an advantage given constraints on the rest of the industry, Philippe Houchois, a Jefferies analyst with a hold rating on the shares, wrote in a report.
Renault sold 1.1% more passenger cars and commercial vans worldwide in the quarter. While deliveries of the battery-powered Zoe model dropped, the company has taken almost 10,000 pre-orders for its electric Dacia Spring model.
While its electrified lineup is being challenged by rival models made by Volkswagen AG and Stellantis NV, Renault is confident electric and hybrid vehicles will make up between 10% and 15% of sales this year, enabling the company to comply with European emissions rules, Delbos said.
The pandemic added to pressures on Renault that already included overcapacity in its factories and problems at alliance partner Nissan Motor Co. Renault took a 5 billion-euro French state-backed loan last year, and last month sold its stake in Daimler for 1.14 billion euros to safeguard its credit ratings.
Renault doesn't report earnings on a quarterly basis. It posted a record loss last year due mostly to impairments and restructuring costs at Nissan.
Chief Executive Officer Luca de Meo unveiled a turnaround plan in January that underwhelmed investors. The carmaker is targeting an operating margin of more than 3% by 2023 and at least 5% by mid-decade compared with a 4.8% return in 2019.
The company has also announced plans to eliminate about 14,600 jobs worldwide and to lower production capacity by almost a fifth in a bid to cut costs by more than 2 billion euros.
Read more:
Renault Will Recover But Tough Months Are Still Ahead, CEO Says