Renault Moves Ghosn Protege Aside in Broad Shakeup
(Bloomberg) -- Renault SA overhauled its senior executive ranks as new Chief Executive Officer Thierry Bollore revamps leadership following the messy departure of fallen titan Carlos Ghosn.
Bollore is expanding the company's executive committee to 12 members from eight currently. Mouna Sepehri, a close Ghosn aide, will lose her place on the body, along with Jean-Christophe Kugler and Bruno Ancelin, who is retiring.
Ali Kassai, one of seven managers entering the French carmaker's inner circle, will replace Ancelin as executive vice president for product planning. The changes will take effect on April 1, Renault said Wednesday.
With the new management team, "we will meet the challenges of the electric, connected and autonomous mobility of tomorrow," Bollore said in a statement. Bloomberg earlier reported plans for the management shakeup.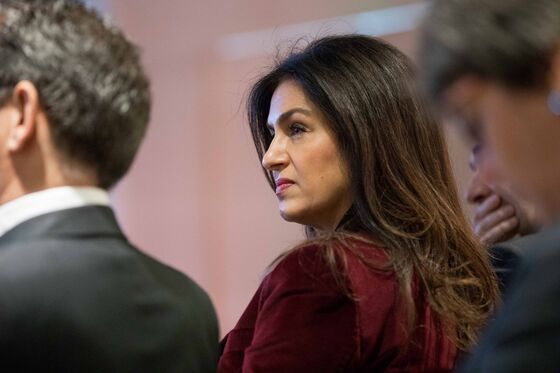 The departures amid the fallout from Ghosn's arrest remove three of Renault's board members at the Renault-Nissan alliance, leaving only CEO Thierry Bollore. Chairman Jean-Dominique Senard has pledged to overhaul corporate governance at the company and to mend fractured ties with Nissan Motor Co. following allegations of financial misconduct against its former CEO. Renault and Nissan Tuesday adopted a new governance structure for the alliance.
The decision is a second blow to Sepehri, who oversaw communication, legal and public affairs, after losing her board seat at Orange SA. The French wireless carrier won't give shareholders the option of renewing Sepehri's term as a non-executive director, people familiar with the matter said this week. The French state is the largest shareholder in Renault and the telecommunication firm.
The shakeup -- following key departures at Nissan and third alliance partner Mitsubishi Motors Corp. -- underscores the unwinding of a power structure built up during almost two decades by Ghosn, who is accused of falsifying financial records and breach of trust by Japanese prosecutors.
Arun Bajaj, the alliance's senior vice president for human resources, exited Nissan this week. He had been involved in the probe related to charges against Ghosn. Mitsubishi has separately said that Trevor Mann, handpicked by Ghosn to serve as the smaller automaker's chief operating officer, will leave as of April 1.