Renault Board to Meet Tuesday to Consider De Meo as CEO
Renault SA's board will meet Tuesday to consider appointing Luca de Meo as chief executive officer, a person familiar with the matter said, the latest step by the struggling French carmaker to move past the Carlos Ghosn era.
Renault's directors are scheduled to convene at 2 p.m. Paris time, said the person, who asked not to be identified because the information isn't public. De Meo helped revive Volkswagen AG's Spanish arm and since November has been considered the front-runner to replace ousted Renault CEO Thierry Bollore, a Ghosn protege.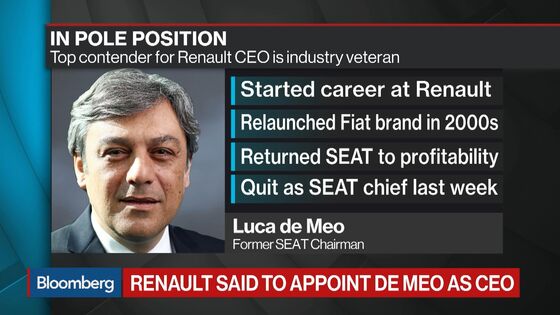 The 52-year-old Italian would take the helm as the manufacturer faces challenges on all fronts. Renault is struggling to move beyond the 2018 arrest of Ghosn, who headed the company and its partners, Nissan Motor Co. and Mitsubishi Motors Corp. The former CEO's departure exposed tensions that nearly tore the alliance apart, even as a weakening of demand in key markets has hurt sales and earnings.
Renault shares fell 0.6% to 34.86 euros by 11:09 a.m. in Paris, a sixth straight day of declines. The stock has tumbled more than 40% since Ghosn's arrest in Tokyo on allegations of financial misconduct.
Ghosn, 65, fled Japan about a month ago for Lebanon, where he has proclaimed his innocence and accused Nissan of colluding with Japanese prosecutors to topple him. He also had harsh words for the Renault-Nissan alliance he built up over two decades, saying that based on its recent performance he wasn't optimistic about its future.
Once he takes the role, De Meo would have to work with Chairman Jean-Dominique Senard, who was charged by Renault's most important shareholder, the French state, with repairing relations with Nissan. The alliance is preparing to unveil measures later this week to deepen operational cooperation, Senard has said.
Yet Renault and Nissan's lopsided shareholding relationship remains the object of long-simmering tension for some at the Japanese company. While Senard has dismissed talk of any changes to their equity holdings, at least for now, a renewed push has emerged.
"If there's talk about the possibility of a gradual weakening of the alliance, we need to start pricing in how much impact it will have on Nissan's earnings recovery scenario," Katsuyuki Nakai, a credit analyst at S&P, said in an interview. Renault has long relied on Nissan earnings to improve its own results and fatten its payout to investors.
Renault owns about 43% of Nissan, while the Japanese carmaker holds 15% of its French partner, with zero voting rights.