Regulator Warns CEZ Reactors' Life Extension May Not Pay Off
(Bloomberg) -- A proposed extension of the lifespan of CEZ AS's four aging Dukovany reactors may not be as profitable as the Czech electricity producer estimates because increasingly stringent safety requirements will drive up costs, according to the country's atomic-energy regulator.
With changing technologies, it's impossible to assess the cost of upgrading the Soviet-designed facility to help it run through 2045 instead of 2035, said Dana Drabova, the chairwoman of the State Office for Nuclear Safety and a nuclear physicist. CEZ has said the extra revenue from the prolonged operation would by far exceed investments, which it estimates at 20 billion koruna ($876 million).
"It certainly won't be less, and it could easily be more," Drabova, whose approval is needed for any nuclear project, said in an interview. "Giving any cost estimates now is like reading the tea leaves. It's pure alchemy."
The government, which owns 70 percent of CEZ, is weighing the Dukovany's modernization as a way to buy time before deciding how to finance and build new reactors, an unprofitable project that could trigger mismanagement lawsuits from minority shareholders. The biggest traded power utility in eastern Europe says it would invest in the upgrade, but the state should pay for any new nuclear blocks -- something a string of Czech governments has refused to do.
CEZ has lost more than a quarter of its stock value over the past decade, underperforming its European peers over concern it might be forced to build new reactors, a model preferred by Prime Minister Andrej Babis. The utility estimates one nuclear block could cost at least 150 billion koruna ($6.6 billion), or about half of CEZ's market capitalization.
The shares have gained 4.2 percent since the government signaled in October it might postpone the project and focus on a Dukovany extension instead. CEZ traded at 547 koruna on Tuesday as of 4:14 p.m. in Prague.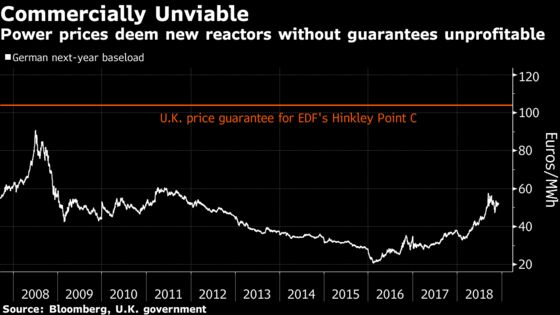 But Drabova warns there is very little precedent globally for operating nuclear stations for more than 50 years, the age Dukovany will reach in the mid-2030s. To add another 10 years, thousands of components and systems may need to be replaced or modified to comply with rules valid at that time, and this would require taking the plant off the grid for an unforeseeable period of time.
"All nuclear projects, including lifespan extensions and the building of new reactors, expose the investor to large uncertainty regarding future regulatory environment," she said at her office in Prague. "Plus you won't buy that much time by extending Dukovany's lifespan. Maybe five years, but no big change will happen in the energy industry by then."
The central European country's preference for nuclear energy contrasts with that in neighboring Germany. The biggest buyer of Czech exports -- including surplus electricity -- is investing in a mix of renewable sources to gradually replace both coal and nuclear power.
Drabova agrees with the Czech government that atomic power is the best way to make the ex-communist nation less dependent on imported oil and natural gas while helping phase out coal-burning plants and reduce carbon emissions. But, in the future the Czech Republic could do without reactors, which now generate about a third of all electricity, she said. That may also come with considerable costs and risks to stable supplies.
"It's certainly a political decision," she said. "If you're building something that has to operate for up to 60 years, there is absolutely no way to estimate the profitability of the investment."