Regional Banks Suffer Sour Earnings Season as Every Stock Drops
(Bloomberg) -- For most U.S. regional banks, earnings season hasn't been kind to their stock prices.
Since Oct. 12, the day lenders started releasing third-quarter results, the KBW Bank Index has fallen 5.5 percent to the lowest level in over a year, with every one of its 24 companies declining. KeyCorp has slipped 9.6 percent in that period, as Regions Financial Corp. and SVB Financial Group dropped more than 8 percent.
While unemployment is historically low and last year's U.S. tax overhaul boosted the economy, banks have been plagued by muted loan growth. Now interest rates are rising, making borrowing more expensive, and fears about the housing market have seeped into financial stocks.
Here are some key takeaways from third-quarter results:
Deposits came in lower than expected at the biggest regional banks, limiting the lenders' ability to take advantage of rising rates. Consumers and businesses alike have been moving money into higher-yielding alternatives, according to Barclays Plc analyst Jason Goldberg. Credit Suisse Group AG analyst Susan Katzke called competition for deposits "increasingly visible," in a note on Citizens Financial Group Inc.'s results.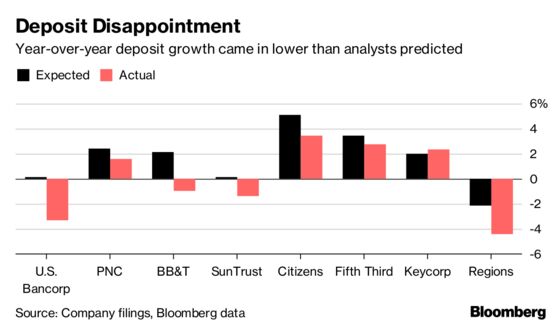 Mortgage results were also tough as rising rates drove a shift in the market from refinancing to originations, shrinking the pie of available business for banks. Furthermore, heightened competition from nonbank lenders is squeezing margins. Mortgage fees slid significantly across the board in the third quarter.
Read more: Job cuts start at banks' mortgage units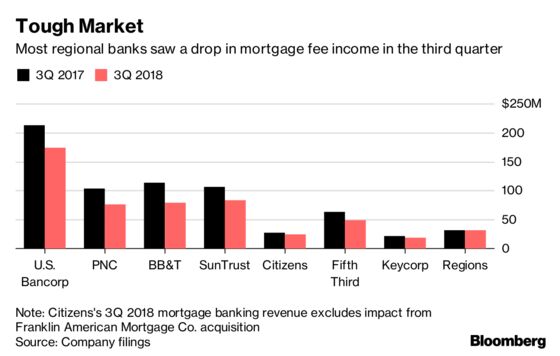 Still, a bright spot: Loan-loss provisions were also down across the board. Consumer health looked good in the third quarter even amid the pressing question of when the credit cycle will turn. "The biggest driver of EPS upside continues to be a lower-than-expected loan-loss provision," Goldberg wrote.