Regional Banks ETFs Take a Hit as Housing Cools, Lending Slows
(Bloomberg) -- With interest rates rising and the housing market slumping, exchange-traded fund buyers aren't banking on regional banks.
Investors pulled $547 million from the $4 billion SPDR S&P Regional Banking ETF, ticker KRE, in November, its biggest monthly outflow since January 2015 and the second straight month of net withdrawals. Meanwhile, the $3 billion SPDR S&P Bank ETF, which known by its ticker KBE and owns a broader swath of banks including regionals, saw more than $213 million leave the fund last month, the most since May and the seventh month of outflows in the last eight.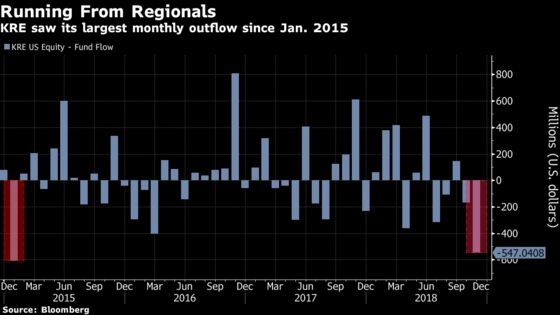 Banks have come under pressure recently as investors worry that rising rates might slow lending and raise the amount the firms have to pay customers in interest. The KBW Regional Banking Index has underperformed the broader market this year. You can see it in KRE, which has fallen over 5 percent in 2018 compared with a more than 4 percent gain in the S&P 500 Index.
"It's difficult to be bullish on banks when growth is decelerating and consensus revenue growth expectations are too high," Instinet analyst Bill Carcache wrote in a note on Friday.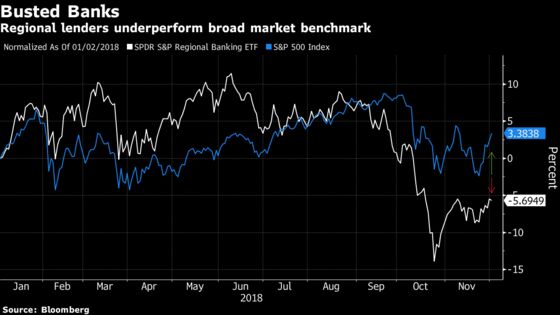 With the spread between short- and longer-term rates narrowing, many banks are saying they will tighten lending standards, which could cut into profitability by reducing the number of loans the firms create. In addition, a slowdown in the housing market -- where both pending U.S. home sales and the sales of new homes have dropped -- is putting pressure on the group.