Taiwan's Reef Activists Told Moving LNG Plant Means Burning More Coal
(Bloomberg) -- If activists hoping to move a planned liquefied natural gas plant away from a 7,000 year-old reef have their way, Taiwan will be forced to slow its energy transition and burn more coal, according to the government.
The campaigners said Thursday they garnered more than double the signatures required to force the issue onto an August ballot and appear to have caught President Tsai Ing-wen's government off-guard. Relocating the $2 billion CPC Corp. plant would take six or seven years and there's no alternative plan, according to Wang Mei-hua, minister of economic affairs.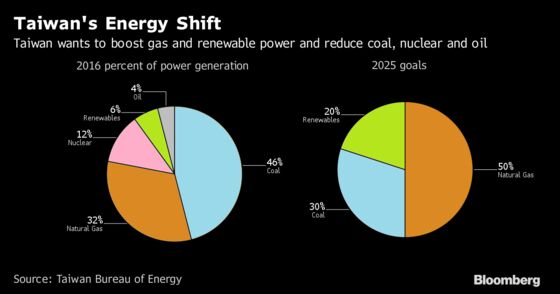 "We won't be able to achieve the goal of increasing the share of natural gas to 50% of the power mix by 2025" if the facility isn't completed as planned, Wang told lawmakers Wednesday. "The share of coal-fired power will also be higher than the planned 30%."
Taiwan is seeking to transition away from coal and phase out nuclear power by 2025 as it pivots toward cleaner burning fuels like gas and renewables. Government-run CPC says underwater photography shows that in the industrial port section of the LNG venture there's no signs of the reef's ecology.
The rocky shoal, which stretches along Taiwan's northern coastline and is home to an endangered coral species, is at risk from the project, the activists say. Construction on the terminal began in 2019, and the facility's first storage tank is scheduled to be completed as early as October 2022, according to CPC. The entire project is slated for completion in 2025.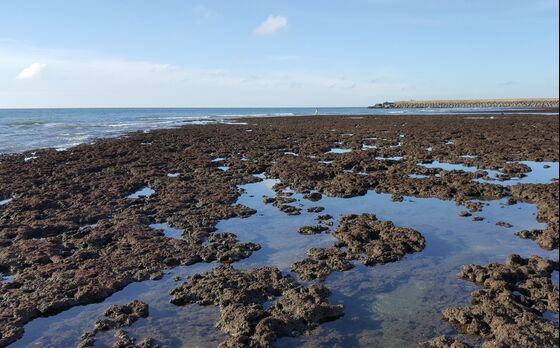 Taiwan's Central Election Commission needs to approve about 290,000 out of 700,000 signatures the activists said they have submitted, to force a popular vote at an Aug. 28 ballot. The referendum would ask voters if the terminal should be moved away from the Datan algal reef coastline. It will be the first referendum on ecological conservation in Taiwan, the activists said.
"The LNG project isn't a confrontation between people and the government," Cabinet spokesperson Lo Ping-cheng said at briefing in Taipei on Thursday. "It's a choice between one type of environmental protection and another."