Red Dead 2 Sales Blast Past Previous Title 
(Bloomberg) -- Take-Two Interactive Software Inc. boosted its annual forecast after reporting that retailers have snapped up more than 17 million copies of Red Dead Redemption 2 since the game's release last month.
The game, a Western-themed shooting title from the same Take-Two division that produces Grand Theft Auto, has already sold more in its first two weeks than the original installment sold in eight years. The shares gained as much as 5.7 percent in late trading.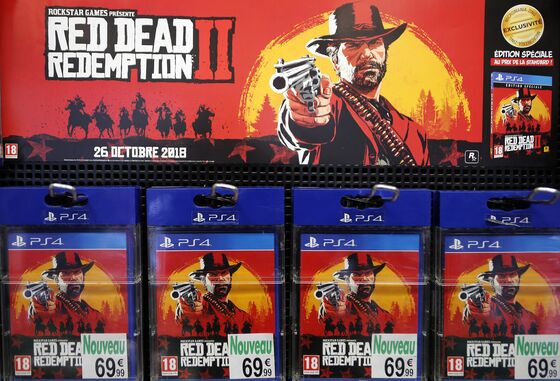 The New York-based video-game maker reported sales and earnings that beat expectations in its fiscal second quarter, thanks to ongoing sales of its NBA 2K and Grand Theft Auto titles. Take-Two now expects sales for fiscal 2019 of between $2.8 billion and $2.9 billion and earnings of $4.50 to $4.74 a share.
The outlook sent the shares as high as $133 after hours. The stock was up 15 percent this year through Wednesday's close.
Another major video-game company, Activision Blizzard Inc., is slated to report its results after the close on Thursday.