Bond Trade at 43.04% Yield Shows Investors Are On Edge in India
(Bloomberg) -- Two Indian corporate bonds changed hands at yields of more than 40% this week, underscoring risks from a shadow banking crisis that's spilling over into the economy and the rest of the credit market.
Indiabulls Housing Finance Ltd.'s September 2021 rupee note traded at a record 43.04% Thursday while Vodafone Idea's January 2022 bond traded at 42.91% Wednesday, exchange data show. Indiabulls' bond had last traded at 10.95% on Aug. 30, while Vodafone Idea was at 10.77% in October 2018.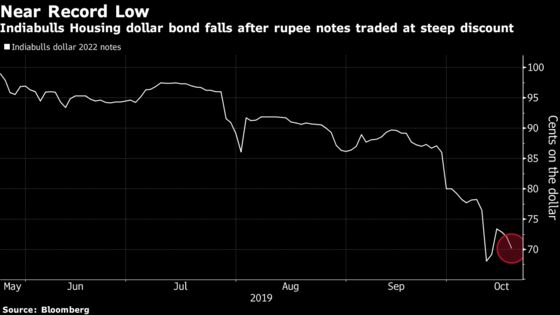 Even in a market under severe strain, the yield spikes raised eyebrows. Both companies dismissed the moves as not reflective of their prospects. A lack of liquidity -- Vodafone Idea's bonds haven't traded for about a year -- or a desperate seller may have been to blame.
But there are plenty of reasons for India's credit investors to be nervous. Since the sudden collapse of the IL&FS group last year thrust non-bank lenders into the spotlight, the list of companies missing debt repayments has kept growing. It now includes major shadow lender Dewan Housing Finance Corp., tycoon Anil Ambani's Reliance Capital Ltd. and Jain Irrigation Systems Ltd.
Vodafone Idea hasn't defaulted and the trade wasn't accurately priced, according to an official who asked not be identified. A spokesman from Indiabulls said the nation's shallow bond markets mean that securities sometimes change hands at wrong levels, and the company expects the price of its debt to rebound.
As India's shadow banking crisis deepens, it's getting harder for investors to cut their losses in the sector's debt. Mutual funds are in a particularly tough spot, given their large holdings of non-bank financing company bonds.
Some dollar bond investors are getting burned even as overseas issuance from India looks set to quadruple to a record in 2019.
Crisil assigned Wednesday a negative outlook on Indiabulls' long-term debt securities.

The rating company cited funding challenges for Indiabulls following the failure of the merger plan with Lakshmi Vilas Bank.
Indiabulls Housing's $350m 6.375% notes due 2022 dropped 1.9 cents on the dollar to 70.2 cents as of 1:42pm in Hong Kong, according to prices compiled by Bloomberg.
Indiabulls shares rallied for a second day in Mumbai, set for the biggest-two gain since August.