Record Quarter for Stocks Saw FAANGs Take Back Seat to Health
(Bloomberg) -- The S&P 500's best quarter in almost five years included several record highs as well as Apple Inc. and Amazon.com Inc. eclipsing the $1 trillion milestone for the first time. It was also notable for what it didn't include -- outperformance from the megacap tech stocks that had led the rally over the prior two quarters.
The so-called FAANG group lagged the broader index over the past three months. An equal-weighted average of Facebook Inc., Apple, Amazon, Netflix Inc. and Google parent Alphabet Inc. shows the group's quarterly performance registering a gain of 5.5 percent, compared to 7.2 percent for the S&P 500.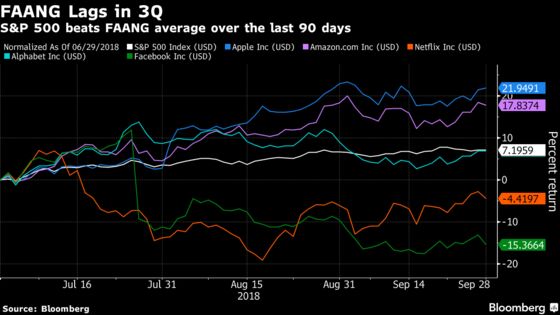 With the bulk of the broader market gains this year coming in the third quarter, the recent FAANG underperformance could signal a shift among investors to allocate new capital to other sectors. Who could pick up the mantle? In the third quarter, health care stocks were the best performers and Evercore ISI said this week that their momentum should continue.