Record Profits Are Still in Sight for Big Banks Despite Rate Cuts
(Bloomberg) -- For the first time in four years, interest rates hurt instead of helped the biggest U.S. banks. It wasn't enough to knock them off pace to top last year's profit record.
Revenue at the six largest firms climbed from a year earlier for the 12th time in the past 13 quarters, helped by better-than-expected gains in trading and a surprise jump in investment banking. JPMorgan Chase & Co., the nation's biggest bank, notched a new revenue record. That all came in spite of the group's net interest income posting its first drop since 2015 as the Federal Reserve lowered interest rates twice in the quarter.
For all the hand-wringing about low rates, trade wars and a possible economic slowdown, the biggest banks are still riding high. A healthy consumer, lower corporate tax rates and stock markets at all-time highs have the firms on track to break the all-time earnings high of $120 billion in 2018.
"The banks had set low expectations in September, and it turned out that the results were pretty strong," Julien Courbe, financial services advisory leader at PricewaterhouseCoopers. "I think a big question would be whether the rate cuts would actually stimulate loan demand, and we heard from the earnings that it did."
While capital rules introduced to make banks safer after the financial crisis have ended the glory days, when return on equity often topped 20%, all six banks have clawed their way back to double-digits this year for the first time since the crash.
Investors are taking note: shares of all the banks except Citigroup Inc. climbed this week, with Morgan Stanley, Bank of America Corp. and JPMorgan all surging more than 3.5%.
Here are the week's main takeaways:
Banks upended forecasts by posting strong revenue in their trading businesses this week.
Every firm beat analysts' estimates as volatility in fixed-income markets created opportunities for trading desks. Morgan Stanley was the biggest surprise, with debt trading jumping 21% instead of dropping 5% as analysts had predicted. Fixed-income trading at JPMorgan rose by the most in almost three years.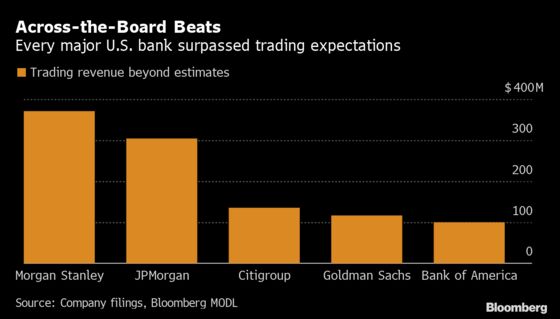 At Bank of America, strong trading results added to good news on the investment-banking front, where revenue shot up almost 26% from a year earlier and beat expectations. Goldman Sachs Group Inc. suffered the opposite fate: It posted strong trading results but investment-banking fees took a bigger hit than expected.
The top four retail banks pulled in record revenue for the fifth straight quarter, a sign that the U.S. consumer remains healthy even as some economic indicators have sparked fears of a coming recession.
"The U.S. economy is still in solid shape, despite the worries and concerns about trade wars, capital-investment slowdowns or other global macro conditions," Bank of America Chief Executive Officer Brian Moynihan said on a conference call with analysts. "Across nearly every line of business, we are seeing strong consumer activity."
JPMorgan, Bank of America, Citigroup and Wells Fargo & Co. collectively made $40.6 billion in consumer revenue this quarter. JPMorgan led the group with the most consumer revenue it's ever had in the third quarter.
Still, there were notes of caution. JPMorgan and Wells Fargo increased loan-loss reserves for the second time in the past seven quarters and Citigroup increased its reserves by the most in two years.
The push by discount brokerages to eliminate commissions on many types of trades did little to dent confidence at the big banks.
Bank of America and Morgan Stanley, which both own U.S. brokerages with almost $3 trillion in assets apiece, said they're focused on longer-term relationships with wealthier customers -- the ones who are willing to pay up for better service and advice.
Almost 90% of Bank of America's self-directed trading business is already handled without commissions, Moynihan said Wednesday.
Morgan Stanley CEO James Gorman said his company is aiming at households worth more than $1 million, and especially those with more than $10 million.