Record Losing Streak of 13 Days Deserves Attention: Taking Stock
(Bloomberg) -- Stock futures are sliding again, though you can't blame rates this time as the bond markets are closed for the Columbus Day holiday.
You can instead pin the weakness on fresh Italy budget jitters -- FTSE MIB index tumbled 2.4%, yields on benchmark 10-year bonds surged to a four-year high, shares of European banks sagged across the board -- and selloffs in China as the markets reopened after a one-week hiatus: Shanghai composite fell 3.7% while the yuan sank the most in two months.
Newsflow and trading volumes should be lighter than usual given the holiday, and unless some macro shift changes the narrative over the next few days, it's possible we'll get conviction-less movement until the big banks start reporting their numbers on Friday to kick off third-quarter earnings season.
The same can't be said for Brazil's stock market, which should be strong out of the gate today (the EWZ ETF is already up ~6% in pre-market trading) after far-right candidate Jair Bolsonaro, the one who was stabbed by a fanatic at a rally one month ago, took a commanding lead in the first round of the country's presidential elections. Keep an eye on any of the ADRs that trade in the U.S., like Petrobras (PBR up 10% after two upgrades already), Cemig (CIG +20%), Bradesco (BBD +8.5%), Itau Unibanco (ITUB), and Eletrobras (EBR).
Here's the Situation (not a good one for homebuilders)
We're coming off a relatively aggressive two-day sell-off in stocks at a time when 10-year yields have been shot out of a cannon, the situation with U.S.-China trade negotiations has corroded further and may not get any better until the midterms, and some of Wall Street's biggest names have begun to forecast doom in the shape of a gigantic debt crisis that will supposedly unfurl over the next couple years.
Going to the videotape, we've seen the S&P 500 pull back for its worst two-day decline since May, 10-year yields surge to levels unseen in over seven years (and the curve steepen as a result), the VIX spike to its highest level in months (and an inversion in the futures curve), the emerging markets ETF EEM close at its lowest level in about a year and a half, the S&P 500 tech index and iShares momentum ETF MTUM having their biggest two-day loss since late July, the homebuilders ETF XHB go on a record 13-day losing streak, and so forth.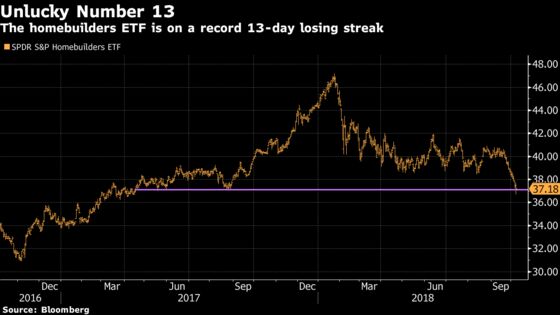 But aren't we allowed to have a correction lasting more than one day without everyone running for the hills? Stocks have done nothing but go up for more than nine years. The S&P 500 was already up >9% and Nasdaq up >16% year-to-date as of Wednesday's close. And both indices dipped below some major moving averages on Friday, only to get attention from the buy-the-dip crowd with hours to go in the trading session and end the day back above those same technical levels.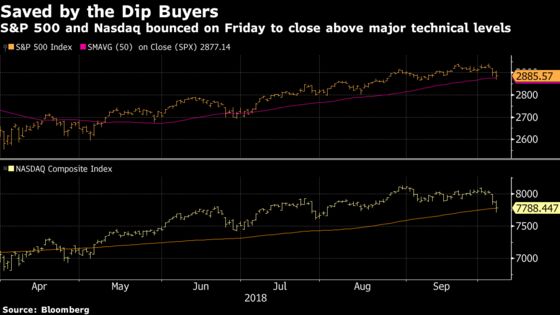 Here's some stuff you might have missed since Friday's close:
Trump tweeted pics of Pompeo and Kim Jong Un yukking it up; Kavanaugh got confirmed 50-48, the closest margin for a SCOTUS justice in more than 130 years; Barron's interviewed Fidelity CEO Abigail Johnson for this weekend's cover story, where we learned that a) a merger with Goldman Sachs isn't on the table, b) a purchase of MSCI or WisdomTree isn't likely, c) the firm's Bitcoin service is set to be commercially available by year end, and d) in a separate story, the firm is worth an estimated $85.9 billion; the WSJ profiled fanatics of 89-year-old Vanguard Group founder John C. Bogle, who are known as "Bogleheads" with a website that sports ~75,000 registered users; Banksy punked Sotheby's after one of his art pieces began to shred itself the second the gavel went down on the sale for $1.2 million; "Venom" broke an October record and almost doubled the weekend sales of Lady Gaga's new movie "A Star is Born"; Kanye West deleted his Twitter and Instagram accounts; Conor McGregor's first MMA fight in nearly two years turned into a "Malice at the Palace" part deux; the Giants lost on a last-second 63-yard field goal; and Elon (the university, not Musk) stunned James Madison after being 37.5-point underdogs, or what appears to be the third biggest Vegas point spread upset ever.
Notes From the Sell Side
GE gets its third upgrade since its big CEO announcement last week -- this time its Barclays's Julian Mitchell, who now has an overweight rating with no change to the price target of $16, though sees a "Blue Sky" scenario of more than $20. He says investors are broadly braced for EPS of ~75c for 2018, FCF of ~50c, and a dividend cut of more than 75%. Separately, Wolfe Research's Nigel Coe, who was one of the two upgrades last week, has a note out this morning talking about a credible path to $20 per share which involves further split-off transactions.
UBS upgrades Conagra to a buy, calling it the best risk/reward in the food sector after recent weakness (down 10% in two weeks) and noting that market concerns of CAG/Pinnacle sales slowdown and equity size offering are overstated.
Piper downgrades iRobot to a neutral on valuation and tariff concerns, with the latter potentially putting pressure on the company's guidance for 2019. The analyst maintains the $90 price target, which is 15% below the last close.
And the initiations are starting to come in on Nio, the Tencent-backed electric-car maker from China that has drawn comparisons to Tesla. The big bulls so far are Deutsche Bank with a buy rating and a price target of $9.50 ("Although we do not expect profitability until after FY20E, we believe that the company is on the right track to achieve sustainable earnings beyond that") and Morgan Stanley with an overweight and target of $8.50 ("We expect China's premium electric-vehicle market to be the next rapidly growing passenger-vehicle segment, with a sales volume CAGR of 54.5% in 2017-22"). Citi and Goldman are both launching coverage at neutral.
Tick-by-Tick Guide to Today's Actionable Events
Today -- Columbus Day (stock markets are open, bond markets are closed)
Today -- ARNA to release trial data for etrasimod
6:05pm -- Abstracts from European Society for Medical Oncology (ESMO) will be released; may impact INCY, IMGN, AVEO, HALO