Record EU Trade Surplus With U.S. Could Put Trump Truce at Risk
(Bloomberg) -- The European Union's trade surplus with the the U.S. jumped 17 percent last year to the highest on record, potentially putting at risk ongoing negotiations just as President Donald Trump is gearing up to decide whether to hit the 28-nation bloc with a new set of tariffs.
The EU reported a 139.7 billion-euro ($157.6 billion) surplus in goods trade with the U.S. in 2018, up from 119.6 billion euros in the prior year, according to data from Eurostat released on Friday. Exports to the U.S. from the EU rose 8 percent, while EU imports from the U.S. grew 3.9 percent.
The U.S. and the EU began talks last July in an effort to reach an agreement that would lower duties on industrial goods and head off an escalation of tensions caused when Trump hit the bloc with tariffs on steel and aluminum imports. The U.S. Commerce Department will send the White House a report by Sunday on whether car imports represent a threat to national security, and as such, should be added to the tariff list.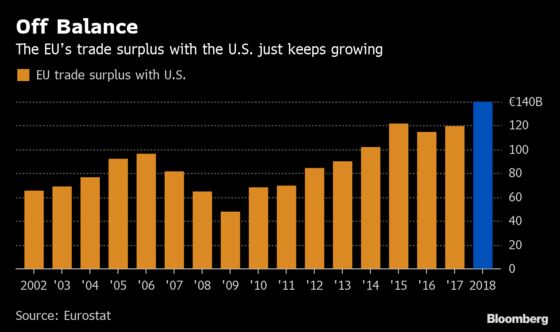 The European Commission, the EU's executive arm, said last month that the bloc is prepared to hit 20 billion euros of U.S. goods with duties should Trump follow through on his threat to impose tariffs on EU cars and auto parts. The U.S.'s earlier imposition of duties on steel and aluminum prompted retaliation by the EU on a range of U.S. products.
European Trade Commissioner Cecilia Malmstrom is awaiting a green light from EU governments to begin formal negotiations with the U.S. on lowering industrial tariffs. Trade ministers from the bloc's member states are due to discuss the matter at a meeting late next week.