Real-Time Data Say Brexit Dent to Trade Isn't Improving
(Bloomberg) -- The impact of Britain's departure from the European Union's single market isn't letting up after five weeks of the new trade deal.
High-frequency data show that freight volumes from the U.K. to the EU were down by about 25% from year-ago levels last week because of Brexit red tape and the impact of the coronavirus, according to the logistics platform Transporeon.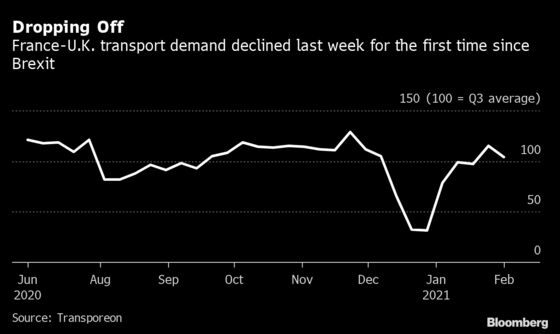 The figures highlight the damage inflicted on the U.K. economy at the start of 2021 after the worst contraction in three centuries last year. The government says overall flows through ports are close to normal.
Cabinet Office Minister Michael Gove has disputed claims from the Road Haulage Association that truck cargoes have dropped off dramatically. Despite the last-minute Brexit deal ensuring no tariffs on goods trade with the EU, transporters are complaining about customs forms and long waits at the border.
"The government's in a weird denial phase," said Rod McKenzie, managing director of policy and public affairs for the RHA. "If you're trading with the EU, the paperwork's difficult, you probably can't find a customs agent, and your haulage arrangements are probably delayed."
While a lull at the start of the year is usual, Transporeon's traffic-tracking unit Sixfold said weekly average volumes were behind the typical curve for five straight weeks -- both from Britain to the continent and back.
The cost of moving goods from France to Britain was 40% higher than the third-quarter average, and the rate of freight firms rejecting contracts to take cargo across the English Channel remained elevated.