Real Estate Donors Tilt Democratic as SALT, China Feud Cut Sales
(Bloomberg) -- President Donald Trump should be well ahead of his rivals in donations from real estate executives. They historically give to Republicans by a 2-1 margin and industries favor a candidate who's one of their own.
Yet Trump lags among people who work in real estate, even though they've enjoyed his regulatory rollback. Political tensions with China and the cap on deductions for state and local taxes have hit the lucrative coastal real-estate markets hard.
"There's a lot of frustration with Trump's policies," said Sean Burton, a supporter of Joe Biden and chief executive officer of Cityview in Los Angeles, a real estate investment firm that specializes in urban residential projects. "People in California were very upset about SALT. And there's been a significant pullback of Chinese capital in real estate over the last few years."
Trump has received less from individual real estate donors this year than Democrats Biden and Pete Buttigieg. Biden has raised $1.04 million from this group and Buttigieg $964,912 to Trump's $902,723, according to data from the Center for Responsive Politics.
Yet in 2012, for instance, Mitt Romney raised $17 million from the industry to incumbent President Barack Obama's $6.6 million, and George W. Bush got twice as much as both John Kerry in 2004 and Al Gore in 2000.
Trump largely self-financed his primary campaign but then collected $5 million from the real estate industry in the general election.
The real estate sector, which has given more money to Republican candidates than to Democrats in every election since 1994, has lost billions of dollars in sales as political tensions with China accelerated Chinese investors' pullback from investing in U.S. housing.
The SALT cap also dampened sales of homes in expensive markets like California and New York.
"We conduct a monthly survey of realtors, and they say that the $10,000 limit on state property tax deduction is a disincentive to buy property in California or New York," said Gay Cororaton, the director of housing and commercial research at the National Association of Realtors.
Perhaps nowhere are these factors more damaging to the industry than in California, where home prices have fallen in some areas after years of sharp price growth. The volume of Chinese property purchases nationally fell 56%, or $13.4 billion, from April 2018 to March 2019 from the same period a year earlier, and more than a third of all such transactions were in California, where the top-polling seven Democratic candidates will debate Thursday.
In California and elsewhere, policy changes affected the housing industry have produced a political backlash against Trump and other Republican candidates from a usually reliable source of campaign cash.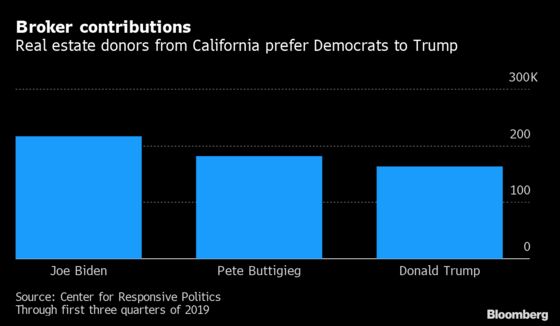 Even more stark is a shift in political giving to candidates for Congress from the powerful group that represents real estate brokers nationally.
For more than two decades, the National Association of Realtors' political action committee gave more money to the party in power in the House of Representatives than to the minority party. But the SALT cap changed that. Even though Republicans held the House majority in 2018, the realtors' PAC gave more money to Democrats -- and that trend is continuing.
"Consistent with previous cycles, our decisions to support candidates are based on incumbents' voting records, answers to the realtor PAC questionnaire, and positions that signify support for homeownership, private property rights and real estate investment," Vince Malta, the realtors' president, said in a statement.
Trump's family, of course, made its fortune in the real estate business and he acknowledged the industry's political clout in a May speech at the group's Washington convention.
"It's the biggest business," Trump said. "There's nothing close. It's bigger than oil and gas, which is big. It's bigger than cars. Bigger than anything. You know, as a group — as a group, you're a tremendously big business and a very powerful business, politically, because you have numbers. Numbers is power."
Nationally, 53% of contributions from people working in real estate go to Republicans, but the shift in the presidential race is visible.
That's unusual, because presidential candidates with experience in the private sector usually enjoy outsize support from their old industries, said Sheila Krumholz, the Center for Responsive Politics' executive director. "It's surprising that Trump would receive less from the real estate industry than some of his challengers in a comparable period," she said.
For example, Romney, with his background in private equity, received $6.5 million from employees of private equity firms in 2012, more than four times what Obama's re-election campaign received. And in 2004, the oil and gas industry gave Bush, a veteran of that business, $3.1 million in 2004, about nine times what it gave Kerry.
Donors in real estate have continued to funnel money to pro-Trump groups, including $2 million that Beverly Hills-based developer Geoffrey Palmer gave America First Action, his designated super-PAC. They've also written big checks to Trump Victory, which splits contributions between Trump's campaign and the Republican National Committee, which has raised $9.9 million from the industry.
Billionaire developer Richard LeFrak, who appeared in a 2010 episode of "The Apprentice," has given the RNC $250,000, while Vornado Realty Trust Chairman and Chief Executive Officer Steven Roth, who partnered with Trump on deals, gave $200,000 to Trump Victory. Both men advised the president on infrastructure matters. Colony Capital Inc. founder Thomas Barrack, a longtime friend and adviser of the president who chaired his inaugural committee, gave Trump Victory the maximum $360,600.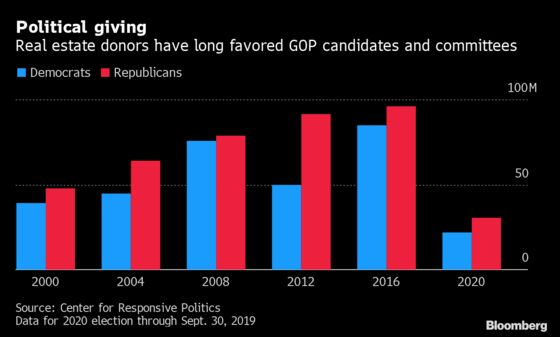 The impact of Trump's policies has been especially strong in the San Francisco Bay area, said Dennis Gao, vice president at Parkmont Group Inc., a Fremont, California-based real estate brokerage with many Chinese clients.
"Trump's new property tax policies have a significant impact on California's housing market," Gao said. "This mostly applies to principal residence purchases."
Gao said Trump administration restrictions on immigration, including the EB-5 program that creates a path for overseas residents to immigrate to the U.S. by making investments to create jobs, have caused some Chinese buyers to hold back their real estate purchases.
"If you're a Chinese businessman and you see this uncertainty in business relations between the U.S. and China, you think twice," Cororaton said. "It's not conducive to purchasing something that's a long-term investment."
The Trump presidency has had a chilling effect on Chinese investment in the U.S. generally, said Carrie Law, senior executive vice chair of the Association of Family Offices in Asia, which advises investors in the region.
"Between 2010 and 2017, the U.S. had always been the leading investment destination for Chinese people," Law said in an interview. "Recently, with the China-U.S. tensions over the last two years, it's been declining to the third or fourth position."
Even some real estate professionals who have supported Republicans in the past are critical of Trump.
"I met him and his desk was actually up on a pedestal, which tells you all you need to know," said Warren E. "Ned" Spieker, owner of Spieker Realty Development Partners, which builds California retirement communities. Spieker hasn't donated to Trump and described himself as politically independent.
"He's helped a little on tax policy and on regulations, although they're still terrible," he said.
(Michael Bloomberg is also seeking the Democratic presidential nomination. He is the founder and majority owner of Bloomberg LP, the parent company of Bloomberg News).