Read Uber CEO Dara Khosrowshahi's Letter to Employees on IPO Day
(Bloomberg) -- As Uber Technologies Inc. prepares to ring the bell on the New York Stock Exchange floor ahead of its first day of trading as public company, Chief Executive Officer Dara Khosrowshahi wrote a letter to employees marking the moment.
He prepared them for the increased scrutiny of the public markets and cautioned them not to fixate on moods of the market. Uber has been the iconic U.S. startup in the era following the 2008 financial crisis. Now it becomes a public company as the market questions a historic bull run.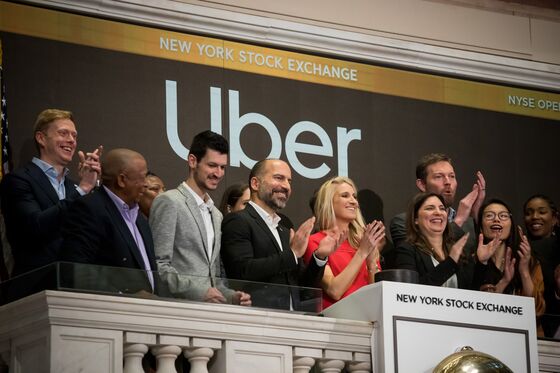 Read Khosrowshahi's letter in full below.
Team:

Uber has had a lot of major moments in our not even 10-year history, and tomorrow marks yet another big one. Since our first trip in the summer of 2010 to today, Uber has redefined what it means to scale a startup -- from only a few cars and a handful of employees to operations in more than 60 countries, 10B+ trips, and 3.9M people finding work on our platform.

Each of us joined for our own reasons, but we all had one in common: we jumped at the chance to build new businesses, reimagine cities for the better -- and create a once-in-a-generation company while we're at it. Through good and some not-so-good times, we showed up every day because we felt a purpose, relished a challenge, and were inspired by the promise of what Uber might one day become.

Tomorrow, we'll continue to make good on that promise when we ring the opening bell of the New York Stock Exchange, on our first day as a public company. Wherever you are, I want you to be part of the action, so expect more details soon.

An IPO is a huge moment, and it's a day we've all been looking forward to. It deserves to be celebrated by all of you -- and because of all of you. Your passion, hard work, and ingenuity brought us to this point, and I'm incredibly proud of what you've accomplished so far.

As we move from a private to a public company, our jobs will no doubt become harder and all eyes will be on us. We'll have an even deeper responsibility to our customers, to our shareholders, to our cities, and to each other. With every share purchased, someone else will join us as a co-owner of Uber -- and we'll gain another person to whom we owe a duty to always "do the right thing, period."

Remember: while the public markets will keep their version of the "score" and the value of what we build, our true north will be determined over the long term. We will go through periods when we will be misunderstood, as well as periods when we will be hailed as heroes. It's during those days, regardless of the ups and downs, that we should focus on our work: on creating opportunity, on moving the world, and relentlessly innovating and executing.

The stakes just got higher. Our world just got a bit bigger. Our stakeholders just expanded. I've never been more confident in this team's ability to shape the future, and I can't wait to see what you build next.

Thank you and congratulations!

Uber on,
Dara