RBS Bill for PPI Tops £6 Billion After New Provision
(Bloomberg) -- Two major U.K. lenders warned that a last-minute rush by compensation-seeking customers will make the most expensive scandal in British banking even costlier.
Royal Bank of Scotland Group Plc said Wednesday it plans to set aside as much as 900 million pounds ($1.1 billion) more for claims related to payment protection insurance, or PPI, that customers didn't want or need. The lender was followed hours later by CYBG Plc, the owner of the Virgin Money brand, which warned that it expects a "material" spike in costs.
CYBG said that it had received "unprecedented volumes of information requests and saw a significant spike in the final days prior to the complaint deadline," which was Aug. 29.
British lenders have spent the past eight years compensating customers who were mis-sold PPI. The policies, some of which dated back decades, were intended to cover missed debt repayments and were often sold using aggressive tactics. In the worst cases, banks misled customers by telling them that PPI was mandatory for loans.
The update from RBS takes the state-backed lender's total bill for PPI compensation to about 6.2 billion pounds.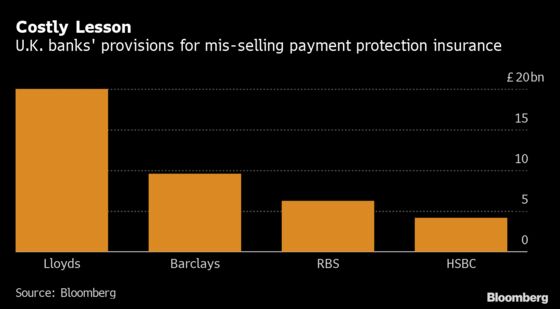 RBS said the volume of claims received during August was significantly higher than expected and the preliminary range for the latest provision is between 600 million pounds and 900 million pounds, though it could be less or more than that total.
CYBG, which said it's still working on determining the final cost of the August surge, had previously set aside almost 2.7 billion pounds for redress. Just 156 million pounds of that sum hadn't been paid out as of the end of March.
The news comes at a challenging time for RBS as it searches for a replacement for outgoing Chief Executive Officer Ross McEwan. The bank is also contending with the economic jitters from Brexit, blaming an "uncertain and competitive environment" last quarter for net interest income that missed analysts' estimates.
In July, Lloyds Banking Group Plc, the country's biggest mortgage lender, took a similar charge as customers rushed to meet the PPI deadline. Banks paid 35.7 billion pounds to PPI customers between January 2011 and May this year, according to the Financial Conduct Authority.
CYBG shares slid as much as 4 percent before recouping much of that loss in early afternoon trading. RBS shares rose 1 percent, broadly in line with other U.K. banks.