RBS Fix-It Man McEwan Faces Tough Test as He Takes Over NAB
(Bloomberg) -- Ross McEwan forged his reputation as a turnaround king by reviving the fortunes of Royal Bank of Scotland Group Plc. Those skills are about to be put to the test as he takes the helm of troubled lender National Australia Bank Ltd.
Australia's biggest business bank was left reeling in February when its chief executive officer and chairman both quit after a report on widespread finance industry misconduct singled them out for withering criticism.
McEwan, a 62-year-old New Zealander, must set about restoring public trust in the Melbourne-based lender and improving its performance when he starts Monday. Earnings fell 11% this year, dragged down by slowing credit growth, shrinking margins and a mounting bill to compensate customers sold junk insurance or given poor financial advice.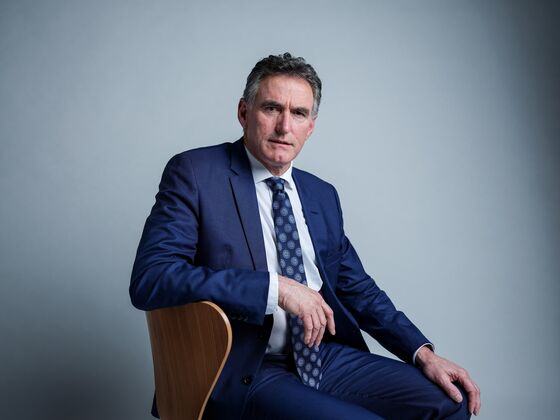 The money-laundering scandal that's engulfed local rival Westpac Banking Corp. has also triggered concerns that McEwan faces a potential legal landmine in his new role. National Australia self-reported its own potential breaches of anti money-laundering regulations to the financial crimes agency in 2017 and is still waiting to learn whether it will be hit with legal action.
It's a lengthy checklist of challenges for the avid All Blacks rugby union fan. But money managers agree he's up to the job.
"Ross is someone who isn't afraid to roll his sleeves up and get directly involved in fixing the problems that are there," said Rod Bristow, chief executive officer at Clime Investment Management Ltd., which has A$961 million ($650 million) in funds under management. "That is just what is needed at NAB."
In an internal video message on his first day, McEwan urged staff to focus on improving customer service, according to a person familiar with the situation who asked not be named because the video wasn't publicly released.
"Really for us it's making sure we're looking after our colleagues and our customers to make sure we're serving our customers brilliantly well," he said. "Everyday we need to get better and better at serving our customers and I look forward to working with you at doing exactly that."
McEwan, who is married and has two adult daughters, became CEO at RBS in 2013 when the lender was in deep trouble. After being nationalized at the height of the financial crisis, the Edinburgh-based bank endured years of losses and was beset by scandals including mis-selling payment-protection insurance and Libor rigging. He returned the bank to profit in what Chairman Howard Davies described as "one of the biggest U.K. corporate turnarounds in history."
"He experienced hell and back in the U.K," said Paul Xiradis, executive chairman at Ausbil Investment Management Ltd., which looks after about A$12 billion for institutional and retail clients. When it comes to rebuilding trust, McEwan has "first-hand experience with what's involved and what it looks like," he said.
In Australia, what was always going to be a tough job has just got tougher.
The industry has been working to restore its credibility after the misconduct inquiry blasted banks for a runaway culture of greed. Hopes it had turned a corner were shattered Nov. 20, when the financial crimes agency alleged Westpac breached money-laundering laws 23 million times. Brian Hartzer quit as CEO six days later, the third of the big four bank chiefs to lose their jobs over compliance failings in two years.
Westpac was the second Australian bank to be hit with money-laundering allegations. Last year, Commonwealth Bank of Australia paid a record A$700 million settlement over its own 53,000 breaches.
While Australia & New Zealand Banking Group Ltd. says it's not aware of any impending litigation from the financial crimes agency, the market is closely watching developments at National Australia.
In its annual report, National Australia said "it may be involved in a breach or alleged breach of laws governing bribery, corruption and financial crime." Given the large number of transactions the lender processes, the undetected failure of internal anti-money laundering and terrorism financing controls could result in "significant monetary penalties," the bank said.
NAB Failed to Monitor Customer Risk Profiles, Australian Says
"At this point you can forgive the market for just being a bit nervous," said John Pearce, chief investment officer at UniSuper, whose fund manages A$80 billion in pension savings.
The financial crimes agency declined to comment on whether National Australia faced a lawsuit, saying in an emailed statement it doesn't "provide ongoing commentary on its compliance work." A spokesman for National Australia said it had no additional update beyond existing disclosures.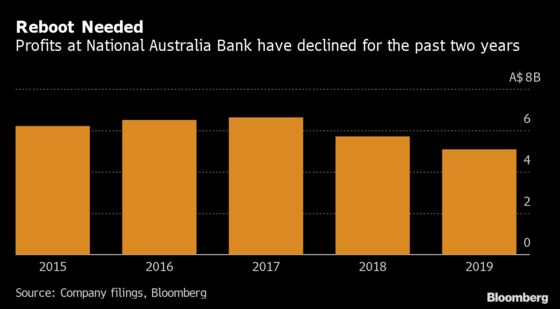 Beyond the regulatory overhang, McEwan will also need to reinvigorate bank lending, continue to compensate customers for wrongdoing and seek to offload the bank's MLC wealth management unit, which has already been delayed.
At least he's returning to familiar ground and is closer to his native New Zealand. Before joining RBS, McEwan headed Commonwealth Bank's retail arm for five years.
He's not expecting it to be easy.
"It does take a long time to repair the reputation of an institution such as this," McEwan told reporters after his appointment was announced in July. "There's no silver bullet."