RBS Sets Aside 100 Million Pounds Over Brexit Fears
(Bloomberg) -- Royal Bank of Scotland Group Plc set aside 100 million pounds ($128 million) to reflect greater uncertainty around Brexit, the first British bank to do so this quarter, as Chief Executive Ross McEwan said big companies are pausing investment as the talks drag on.
While McEwan said his meeting with Prime Minister Theresa May alongside other CEOs last week gave him an "optimistic sense" on Brexit talks, he said the bank took the provision to reflect "quite a bit more uncertainty in the market." The shares slid as much as 5.8 percent, the most in more than two years.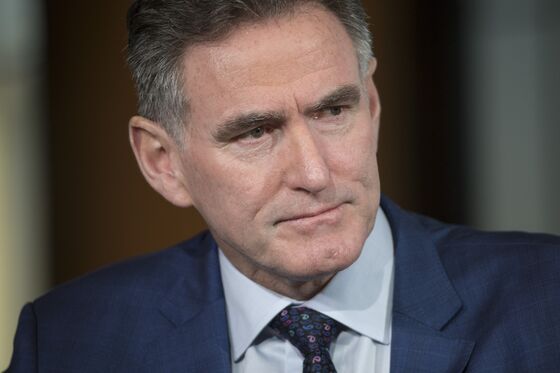 Even though McEwan was keen to call the provision "very low" in context, it overshadowed a set of positive third-quarter results at the lender, whose road map to exiting state ownership involves passing stress tests in the remainder of 2018 and then rewarding shareholders with dividends or buybacks. Capital strength exceeded analysts' estimates, as did operating profit.
"Impairments were worse than expected," wrote Joseph Dickerson, an analyst at Jefferies International Ltd. "The incremental charge is not explained well."
Questioners on conference calls concurred, pressing McEwan and interim chief financial officer Katie Murray for more detail. Murray referred to the IFRS 9 accounting rules, which require companies to take a more forward-looking view. "Risk of a disorderly Brexit has increased," Murray said. "We're not where we thought we would be as a nation by this time this year."
McEwan has previously said a "bad Brexit" could result in a recession. May is racing against time to secure an agreement with the European Union and battling some of her own cabinet ministers before Britain formally leaves the bloc on March 29, and businesses are increasingly getting nervous. A no-deal Brexit reverting to World Trade Organization rules would slash economic growth to just 0.3 percent in 2019, the National Institute of Economic and Social Research said on Friday.
Among other bank executives who addressed Brexit this quarter, Lloyds Banking Group Plc finance chief George Culmer acknowledged the uncertainty, but expects May to reach a deal. Barclays Plc CEO Jes Staley has said he's concerned that disruption to supply chains and the economic fallout from a hard Brexit could eventually hurt his business customers.
RBS stock was down 4.4 percent at 10:29 a.m. in London, the second-biggest decline in the Bloomberg Europe 500 banks and financial services index.
"This serves as a reminder that the bank's fortunes are very heavily influenced by the domestic economy, and by extension, so is its share price," said Laith Khalaf, senior analyst at Hargreaves Lansdown. "The core business is looking pretty stagnant, at best, and the bank's interest margin is heading in the wrong direction, despite rising rates."
RBS is working with U.K. regulators as it considers a buyback to help the state pare its 62 percent ownership stake. While the government sold 2.5 billion pounds of shares in June, McEwan told analysts that there would be "major difficulty" for the state to sell more given the swoon in markets since then. The CEO told analysts not to expect more news on potential buybacks or dividends until after stress tests are over in December.
The lender is still searching for a successor for CFO Ewen Stevenson, who is leaving the company to join HSBC Holdings Plc in a similar role. McEwan said that the search is ongoing, and it may take still take a few more months.
Other Third-Quarter Highlights
Third-quarter operating profit before tax surged 10 percent to 961 million pounds, beating the consensus of 892 million pounds.
Common equity Tier 1 ratio rose to 16.7 percent, beating the 16.4 percent consensus analyst estimate.
RBS took an additional 200 million-pound charge related to the ongoing payment protection insurance scandal, the costliest in the history of British banking. Lloyds Banking Group Plc, which has had the biggest cumulative PPI-related payments, didn't have such a charge in the quarter.
RBS took a further 60 million-pound charge in Ireland as it cuts non-performing loans.