RBS Chief Gets Tense About Brexit and Warns Labour on Breakup
(Bloomberg) -- Ross McEwan surprised markets in October when Royal Bank of Scotland Group Plc made a provision related to Brexit. With Theresa May's divorce deal from the European Union potentially days away from being defeated, he's not any less concerned.
"I have been a backer of the deal because, for the moment, I don't see another deal," McEwan, who has been chief executive officer of the state-owned British lender for five years, said in a Bloomberg Television interview. The economy needs more certainty, because right now "investment isn't being made," he said.
He warned that many RBS business customers are not ready for a hard Brexit based on conversations he's had, and few have made contingency plans for an outcome that could result in a recession for the U.K. McEwan pointed to the bank's 3-billion-pound ($3.8 billion) fund that will be used to help customers through Brexit should they need it.
"We are going to hold a lot of strong liquidity so we can fund our customers," McEwan said. There may be a rush as companies do things like secure storage space to extend their supply chains, he said.
McEwan wouldn't be drawn on whether the bank would take another impairment on Brexit. In October, RBS set aside 100 million pounds to reflect greater uncertainty.
McEwan also said he and his colleagues spoke regularly with Jeremy Corbyn's Labour party, which may not be that far away from taking power with May's Conservatives riven by internal conflicts between Brexiteers and Remainers. The prospect of Prime Minister Corbyn -- who has previously vowed to consider breaking up RBS to create new local public banks -- has already hit the stock.
"Corbyn has made quite clear" some of things his party is interested in, like nationalization of some services, McEwan said.
"We've seen the difficulties of breaking this bank up," McEwan said, referring to the failed plan to split off branches into a separate company, called Williams & Glyn, to satisfy regulators. "It's easy to say let's break things up. It's very, very difficult to extract them, because of the technology. It's much more difficult than what people think."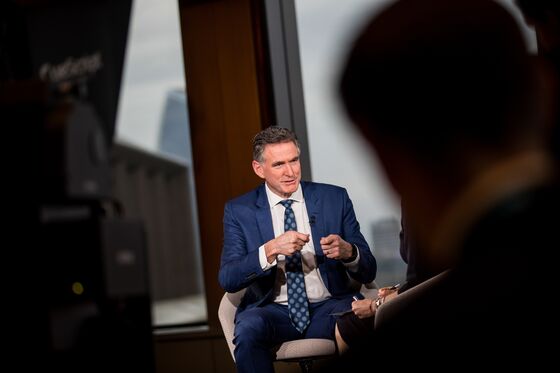 "We have been engaging with the Labour party and some of their advisers," discussing "things that are workable and some things we think are not going to be as workable as they think. We do that with all political parties." Labour's intent to get small businesses growing is a good one, he said.
McEwan also reiterated that RBS would likely use some of its surplus capital to buy back some of its equity from the government, which still holds more than 60 percent of the company. "We may have to consider special dividends as well," he said. "We would like to participate with the government when they start to sell down, and see how we can be involved."
The bank's capital strength is among the highest in Europe, with a common equity Tier 1 ratio above 16 percent. McEwan said the bank's "interim" target given the uncertainty is to cut that to 14 percent, with a longer-term goal of 13 percent "as we get more secure about our business model."
McEwan, a 61-year-old New Zealander, also addressed his own succession. "There's a bit of life left in me," he said, indicating he intends to stay through the bank's 2020 plan. "There are a lot of things to do."
For roles such as CEO, the bank has to consider external and internal candidates in the country and internationally, he said. McEwan said he "would be delighted if we had a woman running the bank," when asked whether it was time for a female to be in the top job. Alison Rose, the most senior female at RBS, who was recently given the role of deputy chief executive officer of NatWest Holdings,"does an amazing job," he said.
The bank is also hopefully near the tail end of its search for the next chief financial officer, he said.