RBC, TD See Business Loans Surge as Mortgage Growth Plateaus
(Bloomberg) -- A surge in business loans at Royal Bank of Canada and Toronto-Dominion Bank is helping lessen the sting of a mortgage slowdown.
Royal Bank's balances from Canadian business lending rose 22 percent to C$97.2 billion ($75.6 billion) in the fiscal second quarter from a year earlier, the Toronto-based lender said Thursday. Growth in that area, along with a 25 percent jump in wealth-management earnings, helped Royal Bank post profit that beat analysts' estimates. Toronto-Dominion's business loans in its Canadian retail division climbed 9.8 percent to C$71.8 billion.
"It's really a favorable macro-economic environment in Canada and the U.S. right now that's driving really healthy business demand," Shannon Stemm, an analyst with Edward Jones & Co., said in a phone interview. "It's a smart pivot for some of these banks to really focus in on their efforts on the business side when you think about the looming risks and the fact that they're potentially not getting credit for the growth on the consumer side."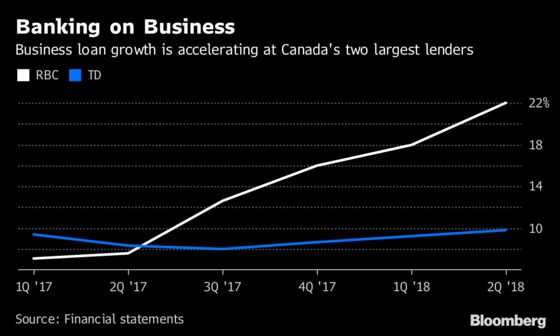 Canadian banks have seen expansion in domestic business lending while mortgage growth has cooled as tougher mortgage qualification rules, elevated housing prices and overextended borrowers weigh on demand. The country's business leaders are showing positive sentiment supported by healthy sales prospects even with evidence of capacity and labor pressures from recent strong demand, according to Bank of Canada's latest survey on the topic.
Toronto-Dominion shares gained 1.6 percent to C$76.71 at 9:48 a.m. in Toronto after the lender also posted quarterly profit that topped estimates with earnings gains across all its major businesses. Royal Bank slipped 1.3 percent to C$99.77.
Domestic business loans at Royal Bank have accelerated at a pace exceeding 12 percent since the second quarter of 2017, while residential mortgages have hovered around 5 percent. Toronto-Dominion has seen at least six quarters of business loan growth above 8 percent.
"We've been quite focused on making sure that we have the best business bankers," Toronto-Dominion Chief Financial Officer Riaz Ahmed said in a phone interview. "We have focused on a number of areas where we have been under-represented, including markets outside of Ontario, agriculture, dealer financing, leasing, etc."
Financial firms have been anticipating a slowdown in domestic home lending, with Canadian Imperial Bank of Commerce on Wednesday reporting the slowest growth in three years. Toronto-Dominion's mortgage book edged up 1.2 percent, though growth including amortizing home-equity loans climbed 5.9 percent. Royal Bank's mortgage balances rose 5 percent, a similar pace from prior quarters.
"Notwithstanding monetary tightening and regulatory changes that affected some homeowners, we continued to see solid mortgage volume growth this quarter," Royal Bank Chief Executive Officer David McKay said on a call with analysts. "We also saw momentum continue in business lending as the result of our focus on growing a commercial client base."
Bank of Nova Scotia is scheduled to report results May 29, followed by Bank of Montreal and National Bank of Canada on May 30.
Here's a summary of RBC and TD results:
Royal Bank said net income for the period ended April 30 rose 9 percent to C$3.06 billion, or C$2.06 a share, from C$2.81 billion, or C$1.85, a year earlier. Adjusted profit, which excludes some items, was C$2.10 a share, the bank said. That beat the C$2.05 average estimate of 14 analysts surveyed by Bloomberg.
Toronto-Dominion's net income rose 17 percent to C$2.92 billion, or C$1.54 a share, from C$2.5 billion, or C$1.31, the lender said in a separate statement. Adjusted profit was C$1.62, exceeding the C$1.50 average estimate of 13 analysts surveyed by Bloomberg.
RBC's Canadian banking earnings rose 8.4 percent to C$1.43 billion, while Toronto-Dominion posted a 17 percent jump in domestic personal-and-commercial banking.
Both firms benefited from higher net interest margins in their Canadian banking divisions. Royal Bank's margins widened 6 basis points to 2.74 percent from the first quarter, while Toronto-Dominion's NIM climbed 2 basis points to 2.8 percent.
Capital markets earnings slipped 0.4 percent to C$665 million at Royal Bank, while Toronto-Dominion's wholesale banking unit posted a 7.7 percent increase to C$267 million.
Earnings from Toronto-Dominion's U.S. retail division, which includes its stake in TD Ameritrade, increased 16 percent to C$979 million.
Profit at Royal Bank's wealth-management division, which includes Los Angeles-based City National Bank, jumped 25 percent to C$537 million.