RBC Reshapes Markets Unit Into Three Cross-Product Groups
(Bloomberg) -- Royal Bank of Canada's capital-markets division is reorganizing its global-markets unit into three groups, including a new sales and client operation run by an executive in London, departing from banks' typical structure for the business.
RBC Capital Markets is creating a global sales and relationship management team, a macro group and a digital solutions and client insights group, with the three groups working across platforms, the bank said in an emailed statement.
The reorganization is a departure from a banks' traditional method of organizing their markets business by product types. RBC also is looking to build on a run of strong quarterly results for the 2,000-person business, which has benefited from increased trading activity with the Covid-19 pandemic roiling markets.
"These changes will enable us to further strengthen our client centricity, drive scale and foster innovation through digital excellence and thought leadership," Jonathan Hunter, head of global markets, said in the statement.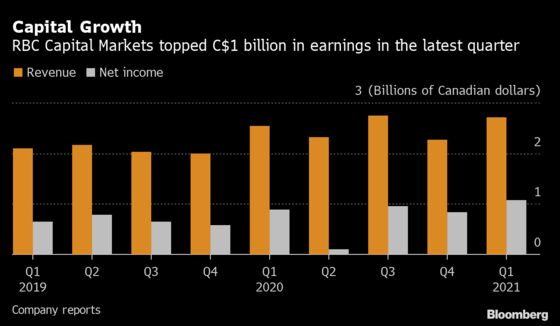 Royal Bank shares rose 0.8% to C$117.33 at 10:35 a.m. in Toronto. The stock is up 12.2% this year, compared with a 15.5% gain for the S&P/TSX Commercial Banks Index.
The sales and relationship group will lead client strategy and sales execution across fixed income, currencies, commodities, equities and central funding, and will be led by Sian Hurrell, who's based in London.
The macro group -- to be headed up by Jim Byrd, who's based in Canada -- will house the rates, foreign-exchange, commodities and futures businesses.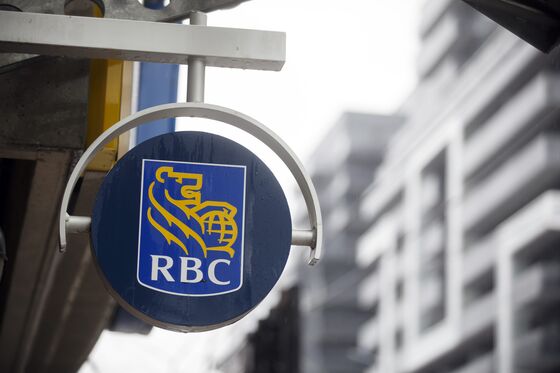 The digital-solutions group will work to integrate and scale RBC's data science, artificial intelligence and electronic expertise across product lines, and will be led by Bobby Grubert, who's based in New York.
Michelle Neal, who led RBC's U.S. fixed income, currencies and commodities and senior relationship management team, decided to leave the bank to pursue other opportunities.
RBC hired Neal in 2019 from Bank of New York Mellon Corp., where she was chief executive of BNY Mellon Markets, to lead the U.S. FICC business. She previously held senior leadership roles with Deutsche Bank AG, Nomura Holdings Inc. and Royal Bank of Scotland Group Plc.
Neal's "vision, strategic outlook and focus on talent, innovation and execution represent sustainable contributions that will benefit the business going forward," RBC said in a memo announcing the changes
RBC Capital Markets' earnings have surged in recent quarters, helping the parent bank weather the strains of the pandemic. The unit's profit rose 21% in the bank's fiscal first quarter, helped by a 12% revenue gain from the global markets business.
The capital markets business also provides Royal Bank with exposure beyond its home market of Canada. RBC Capital Markets head Derek Neldner said last week that the firm sees the potential to boost its market share in the U.S. from its current level of about 2.5% to as much as 4% over time.