RBA Seen Riding Out Australia Property Slump If Jobs Stay Robust
(Bloomberg) -- Australia's falling unemployment is propping up households and allowing the economy to absorb a property slump, meaning the central bank can afford to stay on the sidelines -- for now.
Despite growing calls for an interest-rate cut, the Reserve Bank is likely to stick with its regular refrain: the labor market is central to whether Australia extracts itself from half a decade of weak inflation or policy makers abandon a 2-1/2 year pause in favor of further stimulus.
While economists and traders still see the benchmark rate staying at a record low 1.5 percent on Tuesday, market pricing of the chance of a cut within a year has jumped to about 70 percent in the two months since the central bank's last board meeting -- when the probability was at zero.
"We are not convinced the RBA is on the cusp of a dovish capitulation," said Sally Auld, senior strategist for interest rates at JPMorgan Chase & Co. in Sydney. "Robust labor market outcomes are clearly a significant buffer to any lingering central bank concerns about the impact of falling house prices."
As the Reserve Bank itself has signaled, the economy is in somewhat uncharted territory. It's repeatedly noted that the current backdrop for the housing slump -- a falling jobless rate and above-trend economic growth —- is a "highly unusual" scenario, says Auld.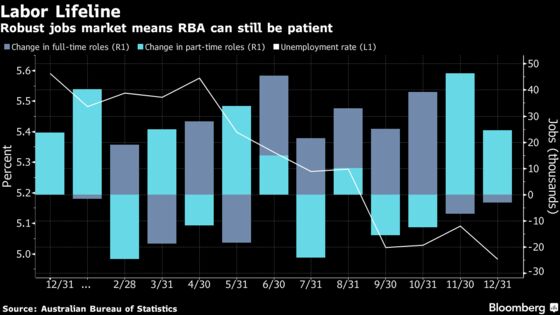 What Our Economists Say...
"Too much concern could fuel fear, undermining existing strengths. Too much optimism could also backfire, as the Federal Reserve recently learned."

-- Tamara Mast Henderson, Bloomberg Economics

For more, see our Australia Preview
Governor Philip Lowe has so far opted against easing further in response to weak inflation, reflecting his long-held concern about asset bubbles damaging the economy. More than two years after he took office, household debt has only just edged down from a record high -- its first drop in four years.
The RBA's policy of patience had broader success last year as the economy accelerated above its speed limit, unemployment fell to a more than six-year low and small signs emerged of faster wage growth. Also, a tightening Federal Reserve suggested the Aussie dollar would keep depreciating and provide a fillip to exporters and import-competing industries.
While a quickening fall in house prices had fueled mounting concerns, it was a sharp slowdown in third-quarter GDP as households reined in spending that changed the mood. Indeed, since the RBA's last meeting, data has been the definition of mixed:
Since You've Been Gone...
Third-quarter GDP growth slowed to an annual 2.8 percent; the economy needs to expand at about 3 percent or more to eat up spare capacity
The jobless rate fell back to 5 percent; in the key states of New South Wales and Victoria, it declined to 4.3 percent and 4.2 percent respectively
The key core inflation measure -- trimmed-mean -- came in at 1.8 percent and has now remained below the bottom end of the RBA's target for three years
Sydney house prices have now fallen 12.3 percent peak-to-trough
Building approvals slumped 32.8 percent from a year earlier
Business conditions have suffered the biggest drop since the 2008 financial crisis
The data is fairly evenly balanced with a strong jobs market looking decisive. Reinforcing that, the federal budget is moving rapidly back toward its first surplus in a decade, suggesting positive momentum in the economy.
Yet Australia is due an election in May and historically the months preceding the ballot see a marked slowdown in hiring as businesses turn cautious. Lowe and his board have plenty to contemplate, even as most economists still see them sitting on their hands for the rest of this year.