Raytheon Sinks as Weak Aerospace Recovery Clouds Cash Outlook
(Bloomberg) -- Raytheon Technologies Corp. tumbled after a third-quarter sales decline in the company's defense divisions exacerbated a deep slump in its commercial-aerospace business.
Revenue slipped 2.3% in the missile and defense unit and posted a similar drop in the intelligence and space operation, Raytheon said in a presentation Tuesday. That crimped the divisions' role as counterweights to Raytheon's commercial jet engines, electronics systems and spare parts, which have been slammed by the coronavirus pandemic.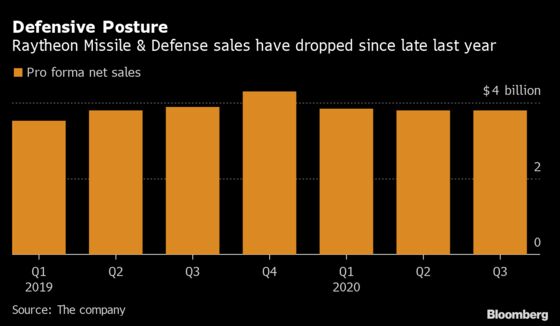 The results underscored the uncertain outlook for Raytheon amid an unprecedented collapse in demand for air travel. While the company's third-quarter free cash flow easily topped Wall Street estimates, much of the improvement was related to the timing of bills collected from defense customers. Raytheon declined to provide a 2021 forecast for the closely watched metric except to say it would improve from about $2 billion this year.
"People are trying to piece together what free cash flow will look like in 2021 and whether will it be lower than consensus," said Sheila Kahyaoglu, an analyst at Jefferies.
Raytheon plunged 5.8% to $57.29 at 3:15 p.m. in New York after sliding as much as 5.9%, the biggest intraday drop in four months and the worst decline on a Standard & Poor's index of U.S. aerospace and defense companies. The shares tumbled 31% this year through Monday while the industry gauge slumped 28%.
What Bloomberg Intelligence Says

Raytheon maintained its $2 billion free-cash-flow target for the year, implying slight sequential moderation in 4Q and possibly giving pause to consensus' $5.5 billion 2021 target, as high-margin commercial-aftermarket headwinds persist.

Douglas Rothacker, Aerospace and Defense Analyst

-Click here to read the research
Adjusted earnings of 58 cents a share in the third quarter topped the 49-cent average of analyst estimates compiled by Bloomberg. Sales fell 21% to $14.7 billion, while Wall Street had predicted $15 billion. The yearly change is based on pro forma statements provided by the company to ease comparisons with its performance before the April merger of Raytheon Co. and United Technologies Corp.
The pace of recovery in global air travel is slow despite a slight improvement in the third quarter and further gains expected through year-end, Raytheon Chief Financial Officer Toby O'Brien said on a call with analysts. Revenue from spare parts and other sources of lucrative aftermarket sales plummeted by about half at Raytheon's Pratt & Whitney and Collins Aerospace units.
Those businesses could see a delayed recovery even after commercial flights rebound more strongly, as airlines harvest spare parts from parked or retired jets. Aftermarket revenue at Collins Aerospace, for example, is likely to lag a broader rebound in flying by several months, warned Raytheon Chief Executive Officer Greg Hayes.
"Even if we start to see a recovery in the fourth quarter in commercial air traffic, which is still a question mark, I don't think anybody should be focused on 2021 to see a big uptick in the commercial aftermarket," Hayes said on the call.
Raytheon is making deep cuts in response to the pandemic-fueled aviation downturn. The company is slashing some 20,000 positions, including the previously announced reduction of 15,000 commercial aerospace jobs and 4,000 contractor positions. In addition, Raytheon is cutting 1,000 corporate posts in the wake of the merger.
Hayes also said the company may cut its office-space use by as much as 25% as more people work remotely. That's more than double the earlier post-merger goal for a 10% reduction.