Rates Traders Brace for Chaos as Fed, Libor and IOER All in Play
(Bloomberg) -- As turmoil in U.S. markets shows little sign of abating, rates traders are starting to aggressively position for a wide array of outcomes heading into December's Federal Reserve meeting.
Driven by the potential for a rate-hike pause, uncertainty surrounding the trajectory of Libor and the possibility of another adjustment to the interest on excess reserves rate, eurodollar options activity is surging. Traders began last week hedging for a number of dovish IOER outcomes as policy makers grapple with a Fed effective rate once again approaching the upper bound of their target range. By Friday, they were also mulling the prospect that officials stand pat at their end-of-year meeting amid renewed volatility in equities.
Add in ambiguity over the path of the London interbank offered rate, which is surging once again, and you have a recipe for chaos in the front end. December 2018 eurodollar futures are currently pricing in a central bank rate hike, a 20 basis point increase to the IOER rate, and FRA/OIS -- a gauge of where Libor is expected to trade in the coming months relative to the fed funds rate -- stable at around 35 basis points. Yet open interest is spiking across a number of call-option strikes on the contract.
| December FOMC scenarios | Approximate EDZ8 price |
| --- | --- |
| Dec pause, FRA/OIS 20bp  | 97.60 |
| Dec pause, FRA/OIS 35bp  | 97.45 |
| Dec hike, IOER raised 15bp, FRA/OIS 20bp  | 97.45 |
| Dec hike, IOER raised 20bp, FRA/OIS 20bp  | 97.40 |
| Dec hike, IOER raised 25bp, FRA/OIS 20bp | 97.35 |
| Dec hike, IOER raised 15bp, FRA/OIS 35bp  | 97.30 |
| Dec hike, IOER raised 20bp, FRA/OIS 35bp  | 97.25 |
| Dec hike, IOER raised 25bp, FRA/OIS 35bp | 97.20 |
Demand has emerged at the 97.25, 97.375 and 97.50 levels, which make up a popular call-fly structure which traded last week. The position was recommended by Morgan Stanley, targeting a 4.5 times maximum payout-to-premium ratio.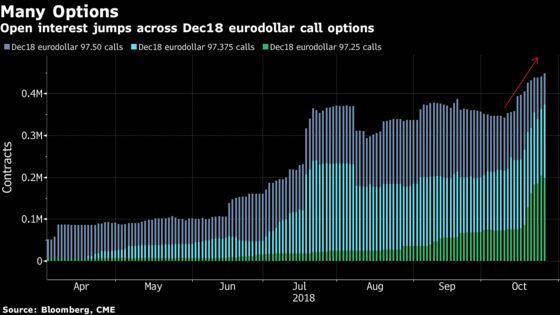 Three-month U.S. dollar Libor climbed to 2.52 percent Friday, the highest since 2008, after recording its biggest one-week surge since March earlier this month. The gap between fed funds and IOER fell to zero for the first time since 2009 Tuesday as surging bill supply and the central bank's balance sheet unwind put upward pressure on short-end rates. At one point Friday, just 17 basis of policy tightening were priced into December overnight index swaps, versus 20 basis points at the start of the week.