Toronto Tower Gets Rare Top-Floor Vacancy as Scotia Opts Out
(Bloomberg) -- Bank of Nova Scotia is vacating the top floors of one of Canada's tallest skyscrapers in downtown Toronto, continuing a revamp of its office footprint in the city.
Scotiabank will leave the top floors of 40 King Street West, part of the Scotia Plaza complex, making them available for lease in 2023, building owners KingSett Capital and Alberta Investment Management Corp. said in a statement Monday.
This is the first time the space will be open since the 68-floor building opened in the 1980s, the owners said. It's the second-tallest office tower in Canada.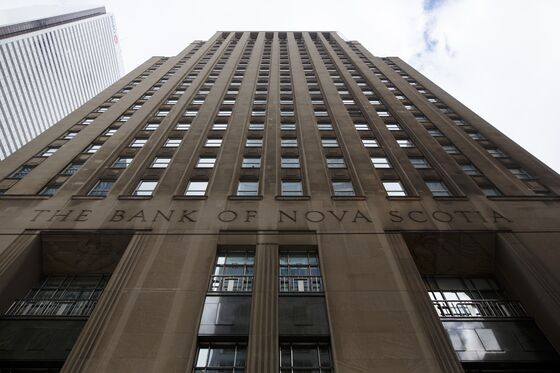 The bank is renewing 560,000 square feet of space in the complex, bringing its total commitment at the site to 1.1 million square feet.
Scotiabank, Canada's third-largest lender, has been restructuring its office setup in its headquarters city. The bank has signed to be an anchor tenant in the north tower of Brookfield Asset Management Inc.'s Bay Adelaide Centre office complex, one block north of Scotia Plaza. The tower was announced in 2018.
Major corporations' office plans have been in flux as the Covid-19 pandemic forces employees to work from home for extended periods. Tech companies including Facebook Inc. and Shopify Inc. have said some employees may work from home indefinitely, and even some financial firms like Deutsche Bank AG are considering policies to allow staff to work from home a few days a week.
The office shift is part of Scotiabank's long-term real estate strategy, a representative for the bank said.
Other than in its Latin America-focused international banking operations, the firm's headcount has risen in recent years. The lender had 44,705 full-time equivalent employees, excluding the international unit, as of Oct. 31, up about 7% from two years earlier.
Including the international unit, Scotiabank's total headcount has fallen 5% to 92,001 in the past two years.