Rand Leads EM Currency Gains After Ramaphosa Speech
The rand strengthened the most among emerging-market currencies on Friday as investors assessed President Cyril Ramaphosa's pledges to overhaul South Africa's electricity industry and curb government spending.
While offering little that is new on the planned restructuring of Eskom Holdings SOC Ltd., Ramaphosa announced sweeping measures Thursday to address power shortages and reduce dependence on the debt-stricken utility. He warned that the nation's debt trajectory is unsustainable and said Finance Minister Tito Mboweni will announce spending cuts in the budget on Feb. 26, with the government and labor unions in talks to reduce the state wage bill.
The rand climbed 0.7% to 14.8511 per dollar by 1:40 p.m. in Johannesburg, heading for its best weekly performance this year. The MSCI EM Currency Index fell less than 0.1%.
Yields on government 10-year rand bonds dropped five basis points to 8.85%, while the cost of insuring South Africa's debt using credit-default swaps fell three basis points to 169, the lowest in a month on a closing basis.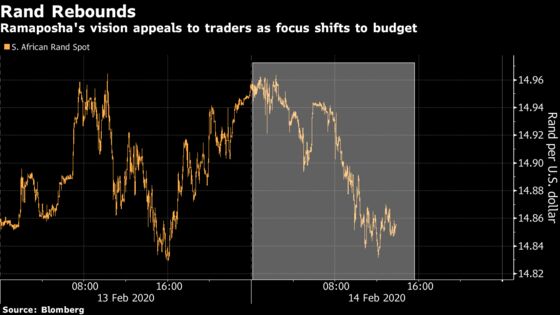 "The speech touched on a broad range of domestic concerns, ranging from electricity supply, state-owned enterprises, youth unemployment, climate change and access to education," said Siobhan Redford, a Johannesburg-based analyst at FirstRand Bank Ltd. "It is fair to say the president hit all the right notes in his annual song to the people of the South Africa, but many will want to see action before buying into the promises."
Ramaphosa is running out of time to convince Moody's Investors Service to hold the country's credit rating at investment level. The company is reviewing the assessment in March, shortly after Mboweni's budget speech. Fitch Ratings, which already has South Africa at junk level, said Friday Ramaphosa's address highlighted the government's credit challenges.
Investors will now focus on the budget presentation for reassurance that the the government has a credible plan to turn the economy around, said Piotr Matys, a London-based senior emerging-market strategist at Rabobank.
"President Ramaphosa said exactly what investors would like to hear, and this, perhaps, is the issue – we have heard all that before and yet the economy is barely growing," Matys said in a note to clients. "To avoid a downgrade to junk – and substantial capital outflows that would follow – the pace of economic reforms must accelerate markedly."