Rand Extends Gain as Inflation Fails to Buoy South Africa's Doves
(Bloomberg) -- South Africa's rand extended its advance, suggesting some traders may be expecting an interest rate increase tomorrow even after inflation data came in slightly softer than economists' expectations.
Consumer prices climbed 5.1 percent in October from a year earlier, up from 4.9 percent but short of the 5.2 percent median estimate in a Bloomberg survey. Most of the increase was due to gasoline prices, which surged to a record in last month.
The slump in crude since then will translate into a substantial decline in the price of gasoline, suggesting that pressure to tighten policy will ease. But the central bank looks past current data to expected future price pressures, and has repeatedly said it wants to see inflation closer to the midpoint of its 3 percent to 6 percent target range.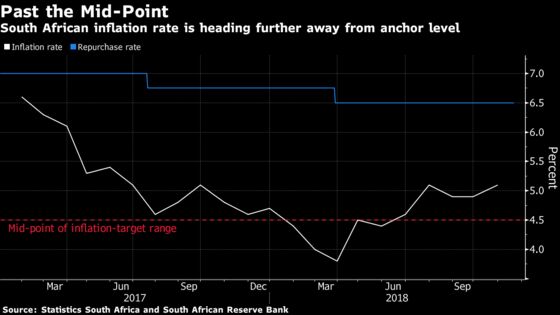 The rand advanced 0.4 percent to 14.0360 per dollar by 11 a.m. in Johannesburg, bringing its gain this month to 5.4 percent. Yields on benchmark 2026 government bonds edged two basis points lower to 9.09 percent.