Relief Is About to Roll Down the Tracks in Canada's Oil Crisis
(Bloomberg) -- Relief for Canada's oil patch is gradually rolling down the tracks, with producers aiming for big volumes of crude by rail to counter their worst glut ever.
A tally of plans from five producers including Cenovus Energy Inc., Canadian Natural Resources Ltd. and Imperial Oil Ltd. shows they're looking to add about 270,000 barrels a day of exports on tank cars to potentially surpass 400,000 by the middle of next year. Most of it is headed to the U.S. Gulf Coast.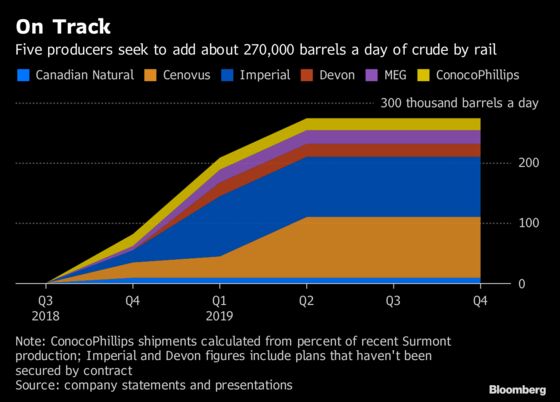 It's a costly solution at a time when a shortage of pipeline capacity sent the price for heavy western Canadian crude to a record low of about $13 a barrel this week. The plans come after almost a year in which rail companies including Canadian National Railway Co. and Canadian Pacific Railway Ltd. demanded multi-year contracts to invest in locomotives and workers, while producers tried to tough it out as they await for conduits to get built.
Initially reluctant to commit to rail, producers are giving in after court filings delayed two major pipeline projects that would relieve the glut: Trans Mountain's expansion to Vancouver and the TransCanada Corp. Keystone XL that would ship crude to the U.S.
"Much of the industry was on the sidelines because they didn't want to commit to the long-term contract," Jihad Traya, manager of strategic energy advisory services for HSB Solomon Associates LLC in Calgary. "Now they are compelled to."
Cenovus was the first one to announce a major deal after reaching three-year agreements with Canadian National and Canadian Pacific in September to ship 100,000 barrels a day by mid-2019 from two terminal in Alberta.
In the meantime, an Alberta government proposal to stopgap the oil-sands' dramatic shipping crunch by increasing crude-by-rail capacity hadn't yet made it to the Canadian energy minister's desk as of Wednesday.
The government could facilitate rail shipments for smaller oil producers who don't produce the volumes needed to sign up for long-term contracts or reserve tanker cars, Kevin Birn, a director on the North American crude oil markets team at IHS Markit, said in a phone interview.
About 350,000 barrels a day of crude-by-rail shipments may be needed to alleviate the supply overhang, Traya said.
Below are other crude-by-rail plans announced by major oil-sands producers:
Imperial has agreements in place to ship as much as 130,000 barrels a day in the current quarter by rail versus 80,000 barrels a day averaged over the past six months, Chief Executive Officer Richard Kruger said Nov. 2. The company is seeking to secure agreements to run its 210,000 barrel-a-day rail terminal at as close to full capacity as possible.
Canadian Natural will begin transporting 10,000 barrels a day by rail this month after securing tank cars and locomotives through a third party, spokeswoman Julie Woo said in an email.
ConocoPhillips will transport about 38 percent of its Surmont oil sands production to the U.S. by rail in the fourth quarter, up from about 23 percent in the third quarter, Chief Financial Officer Donald Wallettesaid Oct. 25.

Surmont produced about 132,000 barrels a day in July, according to Oil Sands Magazine.

MEG Energy Corp. will double its crude-by-rail volumes to 30,000 barrels a day by the end of the first quarter, CEO Derek Evans said Nov. 1.
Devon Energy Corp. is seeking rail contracts to move 20 percent of its heavy oil production, according to a Nov. 14 presentation.

Output from its Jackfish oil sands site exceeded 115,000 barrels a day earlier this year.