Qualcomm Scraps NXP Deal Amid U.S.-China Trade Tensions
(Bloomberg) -- Qualcomm Inc. scrapped its $44 billion bid for rival chipmaker NXP Semiconductors NV after Chinese regulators failed to approve the largest-ever deal in the chip industry.
The aborted takeover may be the highest-profile victim yet of the trade spat between China and the U.S., with every other relevant jurisdiction in the world clearing the bid months ago. While China denied its decision had anything to do with trade tensions, Qualcomm Chief Executive Officer Steve Mollenkopf said "there were probably bigger forces at play here than just us."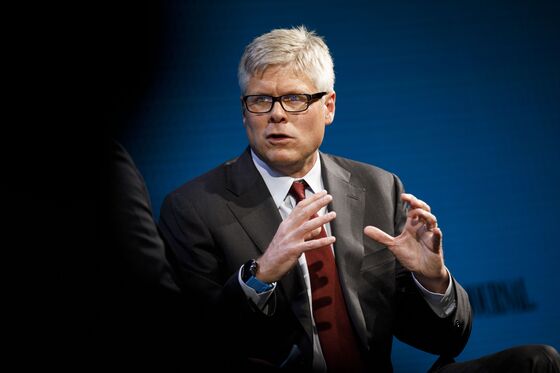 The U.S. company will have to pay $2 billion to NXP, buy back $30 billion of stock to appease investors, and reset its strategy as it tries to reduce its reliance on the slowing smartphone market, where it's facing more competition and legal battles with customers.
NXP's management, after waiting almost two years for the deal to go through, will now have to find a way to convince customers and investors it has a strong future as an independent company.
Shares of Eindhoven, Netherlands-based NXP tumbled 7.2 percent to $91.26 in pre-market trading. San Diego-based Qualcomm jumped about 5.1 percent. Qualcomm had been offering $127.50 per share for NXP and the transaction was approved by both sets of shareholders and government agencies in Europe, the U.S. and elsewhere.
"Our core strategy of driving Qualcomm technologies into higher growth industries remains unchanged," said Mollenkopf in a statement Thursday. In a separate statement, Richard Clemmer, NXP's CEO, said it was "unfortunate" that the deal could not close after 21 months of "diligent efforts."
Qualcomm had originally assured investors that approval would come by the end of 2017. In April, the two companies extended the agreement to Wednesday's deadline as Qualcomm worked out concessions with China, the only jurisdiction that hadn't approved it. But the sign-off was dragged into the trade dispute as U.S. President Donald Trump accused the mainland of creating an unfair imbalance in trade between the world's two largest economies.
The deal is about market monopoly, Gao Feng, a spokesman for China's commerce ministry, told a briefing in Beijing on Thursday. He referred reporters to the State Administration of Market Regulation for more information.
The SAMR had been set to approve the acquisition, people familiar with the process said in recent months. But as the trade dispute continued, one particular sticking point was ZTE Corp., the Chinese telecommunications-equipment maker that had been in danger of failing because of a seven-year ban on buying U.S. components. After the personal intervention of Trump, the ZTE ban was lifted — something that was seen as a prerequisite to Chinese approval of the Qualcomm-NXP deal.
Qualcomm's Failed NXP Deal Limits Its Automotive Prospects: BNEF
China is the biggest consumer of memory chips and the biggest market for smartphones. Given the vast majority of mobile devices are made in the country, it has a say on deals.
The ultimate failure of the deal, one that had been mutually agreed upon by two companies that had little or no product overlap, casts a further pall over the prospects for other transactions in the $400 billion semiconductor industry, which has been reshaped by combinations over the last three years. Qualcomm itself was the subject of a hostile takeover bid by Broadcom Inc., an effort that looked poised to succeed until the U.S. government blocked it, citing risks to national security.
Qualcomm also reported fiscal third-quarter sales that topped analysts' projections and gave an upbeat revenue forecast for the fourth quarter, results that may help it steer investor focus to the strength of its main business.
Sales will be $5.1 billion to $5.9 billion in the fourth quarter, which ends in September, the company said in a statement Wednesday. Analysts on average projected revenue of $5.46 billion, according to data compiled by Bloomberg. Profit in the third quarter was $1.01 a share excluding certain items. Revenue climbed to $5.6 billion. Analysts had predicted profit of 70 cents a share on revenue of $5.19 billion.
In the process of fighting off Broadcom's attempted takeover, Qualcomm made promises to investors that it would improve costs and earnings this year, and pledged that it would pour cash into a share-repurchase program if approval for NXP couldn't be secured. Qualcomm is also once again the target of a takeover attempt — former Qualcomm CEO and Chairman Paul Jacobs is trying to raise cash to take it private.
NXP's management, put in place by private equity firms who bought out the former unit of Koninklijke Philips NV then returned it to the market, avoided public appearances throughout the takeover process and suspended earnings conference calls. Clemmer and his team will now have to convince investors that they've been able to run the company and invest in its independent future without disruption through the process.