Qualcomm Projects Uneven Sales Growth on Pickup of 5G
(Bloomberg) -- Qualcomm Inc. tamped down expectations for sales growth next quarter, saying the payoff from the introduction of smartphones capable of using new high-speed wireless networks will take longer than anticipated.
The chipmaker, which has tied its success to the roll out of fifth-generation, or 5G, networks, gave a sales forecast for the second fiscal quarter that topped analysts' estimates. But revenue will be little changed in the following three-month period ending in June, Chief Financial Officer Akash Palkhiwala said Wednesday on a conference call after earnings were reported.
Analysts had predicted Qualcomm's revenue would increase quarter over quarter through the year. Shares, which had initially gained in extended trading, fell about 2% on the remarks.
Consumers have been hanging on to handsets longer as technology advances slow. Qualcomm and the rest of the industry are arguing that 5G will reverse that trend. While 5G networks are beginning to roll out, much of that demand won't come until the introduction of new smartphones in the September quarter, Palkhiwala said.
"We expect the next inflection point with the launch of additional 5G flagship handsets to be in the fourth quarter and extend into fiscal 2021," Palkhiwala said on the call. "We expect our third fiscal quarter performance to be in line with our second fiscal quarter."
Revenue will be $4.9 billion to $5.7 billion in the fiscal second quarter, which ends in March, the San Diego-based company said in a statement. Analysts, on average, estimated $5.1 billion, according to data compiled by Bloomberg. Fiscal first-quarter sales and profit also beat estimates.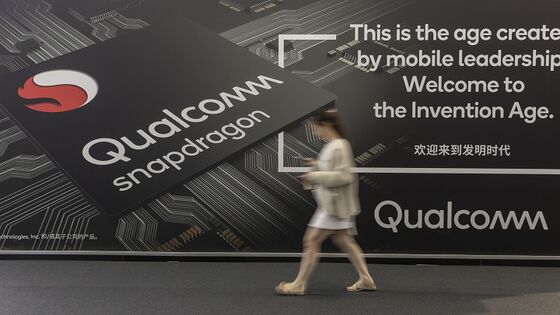 The company has factored in the possible disruption of the coronavirus in China, the biggest market for smartphones, on consumer demand, Palkhiwala said.
Qualcomm shares declined to a low of $86.68 in extended trading after closing at $90.91 in New York. The stock has gained 79% in the past 12 months.
In the first quarter, net income fell to $925 million, or 80 cents a share, from $1.07 billion, or 87 cents, a year earlier. Excluding certain items, profit was 99 cents a share, compared with an average estimate of 85 cents.
Revenue rose 4.9% to $5.08 billion in the period, which ended Dec. 29. Analysts on average had predicted $4.83 billion in sales. It was the first year-over-year sales growth in six quarters.
The chipmaker is the largest provider of technology underpinning modern phone networks, making its results a key indicator of industry demand. Qualcomm predicted that as many as 1.85 billion phones will be sold in 2020, a return to growth after a decline last year.
The company gets the bulk of its profit from licensing patents that it says cover the fundamentals of modern phone systems. Qualcomm charges a percentage of the selling price of each handset, payable by phone makers regardless of whether they use its chips. The company's modems and processors provide it with the majority of revenue.
Technology licensing revenue jumped 38% to $1.4 billion in the fiscal first quarter, but the company projected a decline to $1 billion to $1.2 billion in the current period. The chip division generated $3.6 billion, falling 3.2% from a year earlier. Qualcomm predicted sales will reach as much as $4.5 billion this quarter.
The company is emerging from years of legal disputes and regulatory proceedings that threatened its licensing model. It still has to reach an agreement in a patent-fee standoff with China's Huawei Technologies Co. and overturn a sweeping U.S. antitrust decision through an appeal that is due to start next week.

Qualcomm settled a broad-ranging legal dispute with Apple Inc. and the iPhone maker agreed to resume using Qualcomm chips. But a Federal Trade Commission case alleged unfair business practices and Qualcomm has been ordered to renegotiate patent licenses. The company has won a stay on that decision. Other branches of the U.S. government have said they support Qualcomm's position against the FTC and the lower court, sparking optimism it will succeed.
Separately, Qualcomm disclosed in a filing that it received a request for information on Dec. 3 from the European Commission, which is investigating whether the company engaged in anti-competitive behavior by exploiting its market position in baseband processors to help it in the 5G radio-frequency chip market. Qualcomm said it's in the process of responding.
The company has increased its efforts in RF chips, which help convert radio waves into data that can be processed by other parts of a phone. It competes in the market with Broadcom Inc., Qorvo Inc. and Skyworks Solutions Inc. While Qualcomm has touted its success in RF in new handset models, 5G phones are still a fraction of the total smartphones sold.