Qualcomm Analysts Stay Optimistic Despite a Confusing Quarter
(Bloomberg) -- Qualcomm Inc. fell as much as 5.2%, the biggest intraday drop in six months, after a weak forecast for sales growth and renewed European Union scrutiny on whether it broke antitrust rules.
Wall Street analysts shrugged off the weakness and continue to be optimistic about the chipmaker's longer-term outlook with the rollout of 5G networks.
Once again Qualcomm posted a "confusing report" that showed "the Street had mismodeled seasonality," Raymond James Chris Caso said. Wednesday night's earnings helped validate the company's claim that new handsets will eventually spur growth, Caso said.
Citi's Christopher Danely told investors that the stock weakness and tamped-down expectations from coronavirus-fueled disruption "will be temporary." Morgan Stanley offered a more tempered view, pointing to a "gradual transition" to 5G.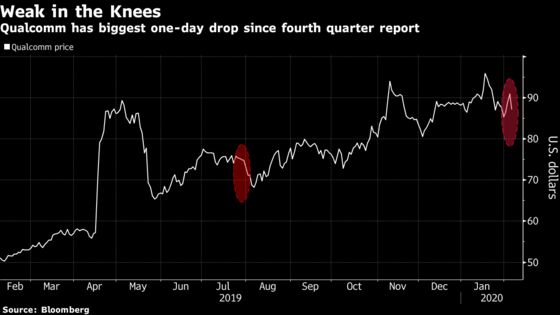 Raymond James, Chris Caso
"March quarter guidance was well ahead" of what Qualcomm indicated last quarter, Caso wrote, citing the 5G flagship rollout and a "significant 36% rise in content, driven from both 5G modems and new RF content."
While the June quarter outlook missed expectations, "the upside in March was more than the downside in June."
Caso sees higher volume offset by lower-content per device and 5G "moves downscale." He has a strong buy rating on the stock.
Qualcomm should be able to shake off the stock weakness as the chipmaker is "one of the largest beneficiaries" of the roll-out of 5G networks. Buy rating reiterated.
Citi raised its fiscal 2020 sales estimate to $21.7 billion from $21.2 billion and 2020 earnings per share estimate to $3.19 from $3.07. The bank kept its 12-month price target at $108.00.
Morgan Stanley, Joseph Moore
"Indications that the June quarter will be flat are modestly disappointing vs. consensus, but consistent with historic seasonality." Qualcomm likely will meet estimates in 2020.
"We are probably less enamored than consensus around the 5G theme for 2020, given relatively slow deployments of 5G infrastructure, and an end user experience that will not be dramatically different than 4G until higher spectrum is deployed."
"We are unlikely to see an accelerated move to 5G - more of a gradual transition, in line with the company's targets." That leaves Morgan Stanley with an equal-weight rating.