Qatar's Bond Appetite Intact With $12 Billion Return to Market
(Bloomberg) -- Qatar's appetite for jumbo bond deals seems insatiable, with the gas-rich nation raising $24 billion in less than a year.
The Gulf state sold $12 billion of bonds after attracting around $50 billion in demand as it took advantage of a pause in U.S. interest-rate increases that has sent investors flocking to emerging-market debt this year.
In the process, the country eclipsed its neighbor and rival Saudi Arabia which sold $7.5 billion of international bonds in January. Qatar, whose debt carries the fourth-highest investment grade of AA- at S&P Global Ratings, also raised $12 billion in April, days after the kingdom sold $11 billion of bonds.
Details of Qatar's Sale:
Debt maturing in March 2024 at a yield premium of 90 basis points over U.S. Treasuries
2029 bonds at a spread of 135 basis points
And 2049 securities at 175 basis points
Emerging-market borrowers are racing to soak up renewed appetite for risk, boosting sales to $336 billion this year through March 5, a record on a year-to-date basis, according to Bloomberg league tables.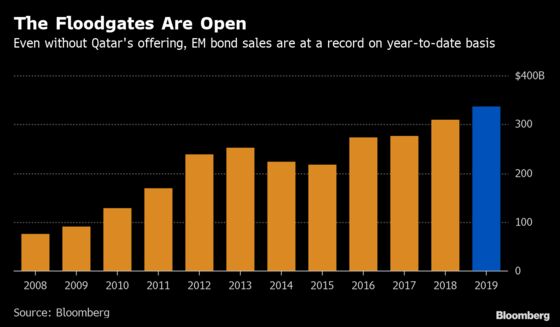 The world's biggest exporter of liquefied natural gas was weighing plans to tap international bond markets to cement its status as a regular issuer, people with knowledge of the matter said last month.
"They are running fairly large surpluses and don't really need the money," said Edwin Gutierrez, a London-based money manager at Aberdeen Standard Investments, who was buying the new debt. "Qatar still is cheap compared to other AAs."
Qatar is keen to maintain its relationship with international markets after a Saudi-led standoff made the country lose regional investors. Borrowers in the country have been using different sources of financing after Saudi Arabia, the United Arab Emirates, Bahrain and Egypt cut economic and diplomatic ties with Qatar in June 2017, accusing the country of financing terrorist groups and having close ties with Iran. Qatar rejects the charges.
Barclays Plc, Credit Suisse Group AG, Credit Agricole CIB, Deutsche Bank AG, QNB Capital and Standard Chartered Plc arranged the sale. The bonds will be listed in Luxembourg and Taipei.