Qatar Returns to the Bond Markets With a Three-Part Offering
(Bloomberg) -- Qatar, known for its jumbo debt offerings, is returning to international capital markets with a three-part dollar bond sale.
It isn't clear how big the issuance will be, but if the $9 billion Qatar raised in 2016 and its $12 billion offering last year are a guide, the gas-rich nation will likely go big. Bids for the bonds are above $35 billion, skewed to the longer tranches, according to a person familiar with the matter, who declined to be identified because the information isn't public.
Price guidance on the sale on Wednesday:
A debt maturing in March 2024 at a yield premium of about 100 basis points over U.S. Treasuries
2029 bonds at a spread of about 145 basis points
2049 securities at about 185 basis points

Initial price thoughts: 5Y/10Y/30Y bonds at +110bp/+160bp/+200bp area

Books subject to close at 9am New York
QATAR INSIGHT: Hurt But Standing; Year of Boycott in Charts
Emerging-market borrowers are racing to soak up renewed appetite for risk, boosting sales to $336 billion in 2019, a record on a year-to-date basis, according to Bloomberg league tables. Qatar's neighbor and rival Saudi Arabia sold $7.5 billion of international bonds in January.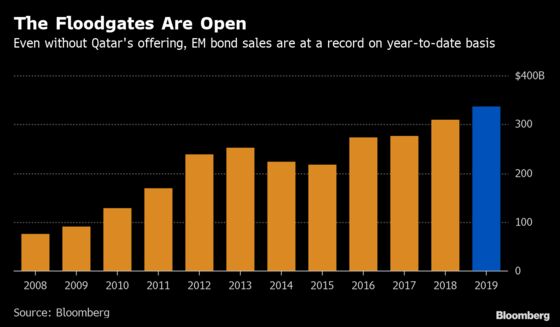 The world's biggest exporter of liquefied natural gas, whose debt carries the fourth-highest investment grade at S&P Global Ratings, last sold bonds in April. The country was weighing plans to tap international bond markets to cement its status as a regular issuer, people with knowledge of the matter said last month.
Barclays Plc, Credit Suisse Group AG, Credit Agricole CIB, Deutsche Bank AG, QNB Capital and Standard Chartered Plc are arranging the sale. The bonds will be listed between Luxembourg and Taipei.