Qatar Airways Defiant as It Reveals Cost of Saudi-Led Embargo
(Bloomberg) -- Qatar Airways revealed the impact of a Saudi-led embargo of its home state while striking a defiant note by suggesting the losses suffered are lower than rival nations had intended.
The Persian Gulf carrier has sought to follow a business-as-usual policy in the face of "aggressive action" by Saudi Arabia and three other countries that forced it to abandon 18 destinations and divert flights to others to avoid closed airspace, Chief Executive Officer Akbar Al Baker said in a statement Tuesday.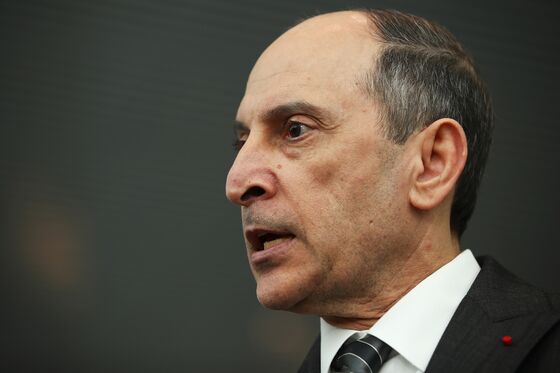 Though the disruption led to a loss of 252 million riyals ($69 million) in the 12 months through March, compared with a 2.79 billion-riyal profit in fiscal 2017, Qatar Air hasn't been cowed by the "turbulent year" and is continuing to add routes, strike new partnerships and invest in foreign carriers, Al Baker said.
"I am pleased to say that thanks to our robust business planning, swift actions in the face of the crisis, our passenger-focused solutions and dedicated staff, the impact has been minimized, and has certainly not been as negative as our neighboring countries may have hoped for," he said.
The state-owned airline's passenger tally fell 9 percent to 29.2 million in the period, while operating expenses rose 15 percent to 42.2 billion riyals, partly as a result of its planes having to travel further on some long-haul flights to avoid overflying hostile states.
Saudi Arabia, the United Arab Emirates, Bahrain and Egypt severed diplomatic, trade and transport links with Qatar last June over the nation's ties to Iran alleged support for extremism, a charge the government in Doha has repeatedly denied.
Qatar Air's drop in earnings and a slump in cash flow hasn't stemmed the ambitions of a company that has retained or increased stakes in British Airways owner IAG SA, Asian heavyweight Cathay Pacific Airways Ltd. and Latam Airlines Group SA, the biggest South American carrier. It has also invested in Meridiana, renamed Air Italy, in a bit to challenged flag-carrier Alitalia SpA.
Al Baker said Sept. 4 that a two-year-old plan to a launch a unit in the fast-growing Indian market remains intact, though has been frustrated by confusion over how far the government is prepared to relax foreign ownership caps.