Qatar Airways Clings to Passenger Schedule While Rivals Idle Fleets
Qatar Airways said it's continuing to operate a third of its normal schedule while bulking up on cargo flights as the Mideast carrier seeks to ride out the coronavirus outbreak.
The second-biggest Gulf airline is still operating about 150 flights a day, serving European cities such as Frankfurt and Munich and more far-flung destinations in the U.S., Australia and parts of Asia, Thierry Antinori, its head of strategy, said Wednesday in an interview from Doha.
Qatar's bid to maintain a reduced timetable contrasts with more drastic steps across the Middle East and Europe, where carriers have commonly grounded 90% of flights. In the neighboring United Arab Emirates, Etihad and Emirates ceased passenger operations entirely as of today amid a government ban.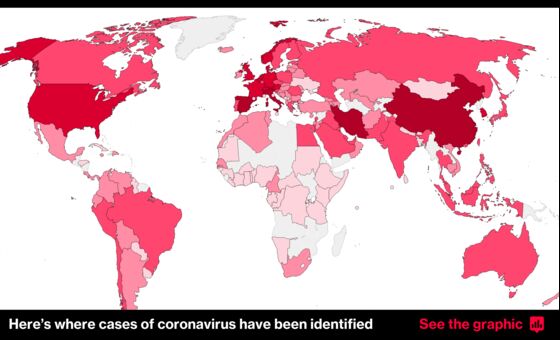 Antinori said Qatar's more diverse fleet of small and large aircraft has provided flexibility in responding to demand swings, with the carrier focusing requirements on fuel-efficient Airbus SE A350 and Boeing Co. 787 wide-bodies, together with the smaller Airbus A320-series.
Two of its 10 A380 superjumbos remain in service on routes to Germany but will likely be pulled next month, he said.
Emirates, by contrast, has a fleet of more than 250 planes solely comprised of A380s and Boeing 777s. Antinori joined Qatar Airways last year from the Dubai-based carrier, which is the world's biggest on international routes.
Operations at Qatar Airways have also been sustained by repatriation services and increased freight movements for products including medical supplies.
Antinori said the carrier is nevertheless deepening efforts to preserve cash in anticipation of worse to come. A hiring freeze has been implemented and unprofitable routes canceled, and the company is renegotiating or postponing some projects, including aircraft deliveries.
"For a few months, if not more, we'll have fewer passengers," he said. "Airlines have to downsize, and some will downsize a lot. And some may emerge from the crisis as the winners."
The International Air Transport Association said Tuesday that airlines worldwide could lose $252 billion in revenue this year from the coronavirus pandemic, threatening the survival of the industry, and Antinori said he expects some carriers to be brought under the umbrella of government.
Even before the coronavirus outbreak, Qatar had grappled with airspace closures imposed by Saudi Arabia, the U.A.E., Bahrain and Egypt over its links to Iran. The executive said that experience has helped attune Qatar Airways to dealing with a crisis and predicted that industry dynamics will shift regionally as a result of the pandemic.
Where opportunities arise to expand, Qatar may consider a move. "We have to be ready for the rebound of the business," he said.