Qantas to Raise $1.3 Billion and Cut 6,000 Jobs to Survive Virus
(Bloomberg) -- Qantas Airways Ltd. will raise as much as A$1.9 billion ($1.3 billion) and cut at least 6,000 jobs as the coronavirus pandemic continues to keep carriers around the world largely grounded.
The Australian airline said Thursday also that 15,000 workers will remain furloughed, particularly those tied to international operations. The carrier's entire fleet of 12 Airbus A380 superjumbos, which once plied busy long-haul routes to Europe and the U.S., are now useless and will be grounded for at least three years, Qantas said.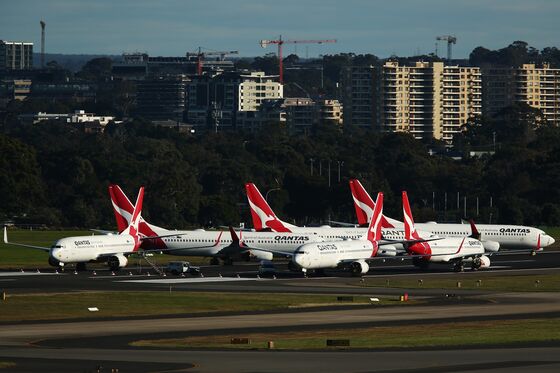 The brutal overhaul -- a 20% reduction of the workforce -- shows how swiftly fallout from the virus can overrun even one of the world's strongest airlines. As recently as May, Qantas said it had enough cash to hold out until December 2021. But with the global pace of infections accelerating, airlines worldwide are now expected to lose more than $84 billion in 2020 alone and face a years-long recuperation.
"We've never experienced anything like this before, no one has," Chief Executive Officer Alan Joyce said on a media call. "We're facing a sudden reversal of fortune that is no one's fault. That is very hard to accept."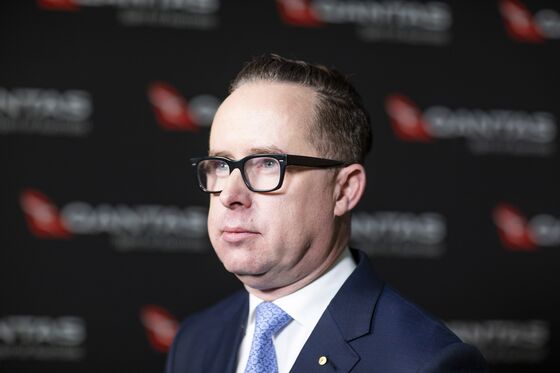 The change in outlook at Qantas is as stark as any in the industry. The company emerged from Joyce's previous three-year turnaround program in 2017 with some of the fattest profit margins in the business after shedding 5,000 jobs. The airline was generating so much cash it returned more than A$3 billion of it to shareholders.
More recently, Joyce was in the final stages of an ambitious plan to launch unprecedented services connecting Sydney with London and New York as soon as 2023. They were to be the world's longest direct commercial routes.
Now they're on ice, and Joyce is starting from scratch again. On Thursday, he announced the airline's first equity raising in a decade, and a second three-year plan centered on cost reductions to plot a path beyond the virus. At the board's request, Joyce agreed to remain CEO until at least the end of the 2023 financial year while he attempts to oversee a recovery.
Qantas stock, down 41% this year, was halted for the announcement.
"The uncertainty for shareholders is what the industry looks like over the next three years," said Daniel Mueller, a fund manager at Vertium Asset Management in Sydney. "The plan is contingent on capacity coming back and borders opening up."
The airline's six remaining Boeing 747s will be retired immediately, six months ahead of schedule, and other jet deliveries have been deferred. All in, some 100 aircraft will sit idle for a year or more.
"This new plan gets us back on track, back to growth, back to profit," Joyce said on the call. "We know that flying will return."
Beyond Australia, airlines have been kept on life support largely with state-backed loans and bailouts of at least $123 billion.
Air France-KLM and Deutsche Lufthansa AG have accessed a mixture of loans and state aid, while major U.S. carriers have received billions of dollars in government assistance. In Hong Kong, Cathay Pacific Airways Ltd. this month announced a $5 billion rescue plan backed by the government.
Qantas's capital raising entails an institutional placement of A$1.36 billion and a share purchase plan for shareholders of up to A$500 million. The airline aims to cut A$15 billion in expenses over three years.
The carrier this month canceled most international flights until late October after the government said Australia's borders are likely to remain closed until next year.
For more on capital raising, click here
Joyce said that while the airline had good prospects for recovery in the domestic market, it would be "years before international flying returns to what it was." Overseas services won't return in any material manner before July next year, he said on the call.
"That means becoming a smaller airline in the short term," Joyce said in a statement.
The proposed job cuts include about 1,500 people on the ground, including baggage handlers, and at least 1,050 cabin crew due to the early retirement of the 747s. At least 220 pilots will lose their jobs.
The announcement is "extremely difficult news for our pilots and their families," said Mark Sedgwick, president of the Australian and International Pilots Association, which represents about 2,500 Qantas pilots.
Qantas said it will write down the value of its A380s, equating to most of an estimated impairment charge of A$1.25 billion to A$1.4 billion in the 2020 financial year.
The airline's available liquidity is expected to be A$4.6 billion following the underwritten placement, including a A$1 billion undrawn facility. Qantas expects to report a small underlying profit before tax, or break even, in its full-year result.