Trump Casts Long Shadow at Buoyant Putin's Geopolitical Show
(Bloomberg) -- President Vladimir Putin scored a major victory by luring leaders from China, Japan and France to his annual economic showcase. But even with the most powerful lineup ever, the conversation kept coming back to one man who wasn't there: Donald Trump.
For more than two hours, Putin and his fellow panelists in St. Petersburg -- Japanese Prime Minister Shinzo Abe, French President Emmanuel Macron, China's Vice President Wang Qishan and IMF chief Christine Lagarde -- voiced concerns over the erosion of trust and the specter of a global crisis brought on by Trump's disruptions. They cited the U.S. president's threats to start trade wars with Europe and China and his withdrawal from the Iran nuclear deal, the Paris Climate Accord and the Trans-Pacific Partnership.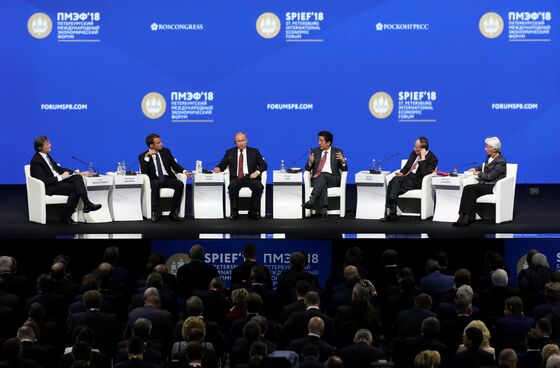 The "darkest cloud" on the economic horizon is the "determination of some to actually rock the system," Lagarde said, prompting Wang, a new point-man for Chinese foreign policy, to agree. "Politicizing economic and trade issues, and brandishing economic sanctions, are bound to damage the trust of others," he said.
Kremlin officials hailed the top-level turnout as a triumph for Putin's efforts to break out of Western-imposed isolation over the Ukraine conflict and Russia's alleged election meddling. At times, the panel resembled a group-therapy session -- but it didn't yield a remedy for the source of anxiety: Trump.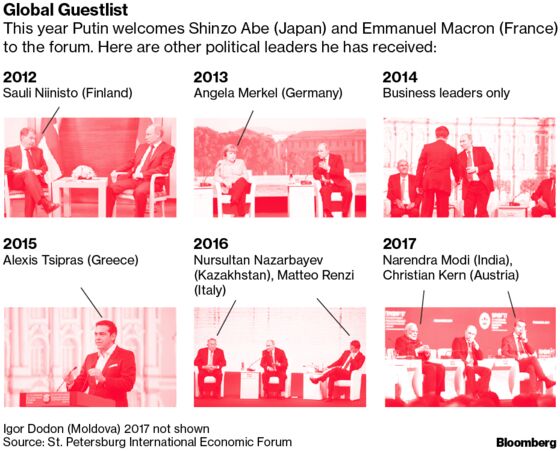 Just as Macron was explaining why he failed to convince Trump not to back out of the Iran deal, Trump underscored the unpredictability that the French leader was complaining about --- by suggesting he may un-cancel his canceled summit with North Korea.
On Iran, Putin, who's dealing with increasingly onerous sanctions of his own, said it's "unacceptable" that the U.S. can get away with fining French and Japanese banks for working with the Islamic Republic when the country is complying with all of its commitments.
"The free market and fair competition are being squeezed by confiscations, restrictions, sanctions," Putin said. "There are various terms but the meaning is the same -- they've become an official part of the trade policy of certain countries."
Trump angered world powers this month by backing out of the 2015 Iran nuclear accord. The other participants -- France, Russia, China, Germany and the U.K. -- are now trying to salvage it. Putin compared U.S. sanctions policy to playing soccer by the rules of judo, a martial art he's mastered.
"What results is neither soccer nor judo but chaos," Putin said.
Putin, who just won another six-year term, said there's no way to plan anything with the U.S. if every new administration decides to revise agreements. The "spiral" of U.S. penalties is targeting "an ever larger number of countries and companies," undermining "the current world order," he said.
Macron, a 40-year-old former banker who was born just as Putin was starting his KGB career, replied: "I fully share your point of view."
"We need a strong partnership," Macron said in front of an audience of some 1,500 delegates, looking directly at Putin. "That's why we need to anchor Russia to Europe."
Macron and German Chancellor Angela Merkel, who flew to Putin's summer residence on the Black Sea for talks last week, appear to be in lockstep on Russia. Macron told a French newspaper he wants "a strategic and historic dialogue" with Putin, while a senior German official said detente with Russia is now a core policy objective.
Even as the European leaders remain at odds with Putin over Ukraine, Syria and other issues, the Iran crisis is pushing them closer together. At the same time, Merkel's ties with Trump are deteriorating, as the U.S. threatens to punish German companies involved in building a new pipeline for Russian gas under the Baltic Sea.
The panel had its prickly moments. After Putin suggested that Europe depended on the U.S. for its security, and told Macron there was "no need to worry" because Russia would help, the French president shot back: "I'm not afraid, because France has an army that knows how to protect itself."
But Russia's leader was clearly in a buoyant mood at the glitzy exposition center built specifically to host the event in his hometown. He deflected a question from the moderator, Bloomberg Editor-in-Chief John Micklethwait, suggesting he was involved in Trump's election campaign.
"Look, a provocateur," Putin said..