Putin's the Man of the Hour - Thanks to Trump
Suddenly, Vladimir Putin is the man to see. By the time the week is out, he'll have met with the heads of four of the world's 10 biggest economies, along with China's No. 2 and the managing director of the IMF.
What makes the Russian strongman so hot? Donald Trump has a lot to do with it. The U.S.'s decision to pull out of the Iran nuclear deal has got Europe's powerful scrambling to keep the pact alive. Trump's potential summit next month with North Korea's Kim Jong Un also has leaders racing to ensure their interests are protected.
Putin will be savoring the spotlight tomorrow at his St. Petersburg forum, sitting on a panel with French President Emmanuel Macron and Japanese Prime Minister Shinzo Abe, marking the highest-wattage turnout in years. (Bloomberg will be live-streaming the discussion.)
It's a proud turnaround for the Russian president, for whom the event in his hometown is a prestige project. But the triumph could be a fleeting one, as he doesn't have many cards to play on Iran or North Korea, where China's increasingly assertive. And Trump's likely to deliver more surprises as he's supplanted Putin as the world's disruptor-in-chief.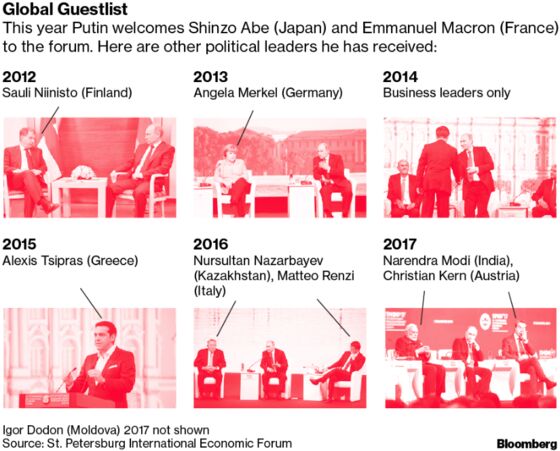 Trading blows | Even as Trump faces criticism that he let China off easy, he's opening a new front in his trade battles with some of America's closest allies, announcing a probe into foreign car and truck imports. The move underscored his isolation on the world stage as German Chancellor Angela Merkel — whose country is home to BMW and Mercedes — joined Chinese Premier Li Keqiang in Beijing to pledge support for the global order Trump's testing.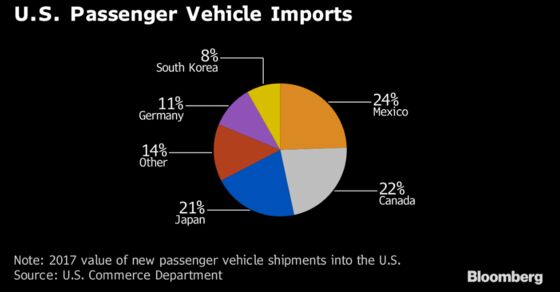 'Stupid' Pence | North Korea again threatened to cancel its planned summit with Trump next month, saying it's ready for a "nuclear-to-nuclear showdown" if the U.S. doesn't change its approach to the disarmament talks. In the harsh statement, a North Korean official blasted Vice President Mike Pence's "stupid" remarks suggesting that Kim risks the fate of toppled Libyan dictator Muammar Qaddafi if he fails to make a deal.
Italy movement | Eleven weeks after Italy's inconclusive election, law professor Giuseppe Conte is beginning his search for a ministerial team that will satisfy both his populist sponsors and President Sergio Mattarella. It won't be easy for the political novice. With financial markets already spooked, Conte must balance the president's call for safeguarding the economy with the program of the euro-skeptic Five Star Movement and League.
A farewell to Erdoganomics? | After three weeks of turmoil saw the lira drop more than 5 percent in a single day, Turkey's central bank surrendered to market forces and raised a key rate by 3 percentage points. President Recep Tayyip Erdogan is an outspoken advocate of cheap money and blames a global interest rate lobby for trying to undermine his economy. The currency recovered — but only briefly, leaving investors to wonder if there'll be another monetary policy shift following the summer election.
FBI records | Trump said he expects "total transparency" from Deputy Attorney General Rod Rosenstein and the FBI regarding documents related to Special Counsel Robert Mueller's Russia meddling probe. U.S. lawmakers and Justice Department officials are scheduled to meet today to review the records, which include the name of an FBI informant who was part of a counterintelligence investigation into Trump's 2016 campaign.
Dark horse | He's a former leftist guerrilla who wants to shift Colombia's economy from oil and coal to wind and avocados. Running for president, he's vowing to hike property and corporate taxes. Wall Street investors say he can't win. But with just days to go before Sunday's vote, Gustavo Petro is stubbornly hanging around in the polls and just may surprise the naysayers.
And finally... Iranian Supreme Leader Ayatollah Ali Khamenei evoked historic American pop culture by likening his nation's relationship with the U.S. to the adventures of Tom and Jerry, two days after the Trump administration pledged to double pressure on Iran with a nod to regime change. Speaking to officials yesterday, Khamenei compared the U.S. to the long-suffering cat Tom who's routinely outwitted by the clever mouse Jerry and vowed that Washington "will lose again."