Putin's Constitution Dream Team Has Those Who Never Read It
(Bloomberg) -- When President Vladimir Putin announced he planned to amend Russia's constitution he named a 75-strong working group to consider the changes including prominent figures such as two-time Olympic pole-vault champion Yelena Isinbayeva.
On Thursday, Isanbayeva told Putin that she was grateful for the opportunity to take part because it meant "I read the Constitution of our country" during a meeting of the group to discuss progress in the work.
"There was no reason or need to do this earlier," she continued. "I understand now that this is a very important book."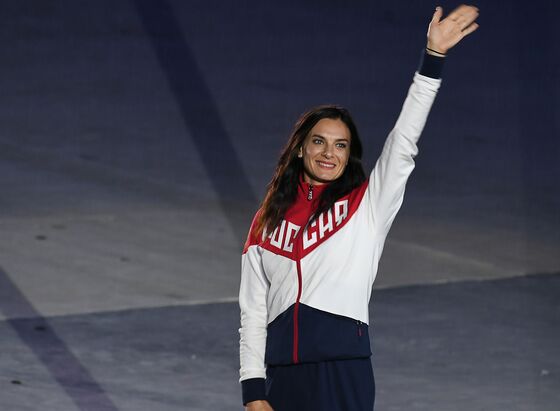 The proposals, which may be put to a national public vote as early as April, are widely seen as an effort by the Kremlin to allow Putin to continue to rule beyond the end of his presidential term in 2024, when he must stand down under the existing law. It's the first major revision of the Russia's post-Soviet constitution since 1993.
Lawmakers in the lower house of parliament gave initial approval to the amendments last month, days after Putin first unveiled them in a Jan. 15 speech.
The measures would curb the powers of the next president, extend the authority of parliament and strengthen the State Council, now a largely ceremonial body that Putin heads, offering him a potential platform to retain control.
Putin appointed the working group on the day he announced the plans, saying consideration of the changes "requires the highest legal and judicial skills."
While "ideally" people should read the constitution, most Russians haven't done so and "they don't need to," Kremlin spokesman Dmitry Peskov told reporters on a conference call Friday. "What's important for citizens is that their fundamental rights are guaranteed."
Suggestions offered by the advisory team at Thursday's meeting included asserting Russia's status as a victor in World War II, declaring that families are an alliance only between a man and a woman, and stating that Russia will always be a nuclear power.
One contributor wanted to ensure the constitution never permits the head of state to give away any territory, such as the Kuril Islands that are at the center of a decades-long dispute with Japan.
Putin said he liked the ideas. Still, he didn't commit to include any of them in his new constitution.