Putin Joins Trump in Finding Ways to Ease Deripaska's Pain
(Bloomberg) -- Oleg Deripaska has seen the post-sanctions future of his global aluminum empire and it's full of Russian footbridges and fighting vehicles.
The United Co. Rusal billionaire agreed to cede absolute control of his flagship company to win relief from the Trump administration sanctions that halved its value -- but not before charting a recovery path with the help of Vladimir Putin, an old ally whose policies prompted the penalties in the first place.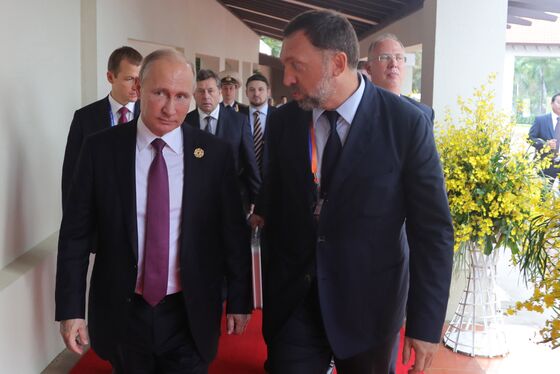 While the billionaire's go-betweens were frantically lobbying authorities in Washington, he spent the last nine months prowling the corridors of power in Moscow to pry open new markets for Rusal's alloys that will ease its reliance on exports. One official said Deripaska and his agents were such frequent visitors to Putin's staff that it seemed like they had their own office in the Kremlin.
Deripaska's bureaucratic victories so far include overturning a 15-year ban on the use of aluminum wiring in residential construction and persuading local authorities across the country to build pedestrian bridges out of aluminum instead of steel for the first time in half a century. Corporate and state officials say these and a raft of other regulatory changes in the works should help boost Russian use of the metal by more than twofold within a decade.
"Aside from the development of the domestic market and the creation of new goods, one of the aims of the program is to defend the interests of thousands of employees in the aluminum industry," said Ilya Dzhus, spokesman for Deputy Prime Minister Dmitry Kozak, who's overseeing the initiatives.
The Aluminum Association, a lobby group co-founded by Rusal, expects annual Russian demand to reach 2.5 million tons by 2028 from 1.1 million tons last year. That would probably lift the domestic portion of Rusal's worldwide sales to almost two-thirds from less than one-third, Bloomberg calculations based on company data show. Rusal, Russia's sole producer of primary aluminum, had about 10 percent of the global market before last April's sanctions.
Even better for Deripaska, who's still on the U.S. blacklist of individuals, most of the increase will come from more profitable, so-called value-added products. These include the types of window frames and roofing that the city of Moscow plans to use in a $50 billion upgrade and expansion of housing stock. Rusal also makes scores of specialty materials used across multiple industries, many with military applications.
Deripaska, 51, has long argued that the country's regulatory framework for construction, transportation, agriculture and other sectors lags far behind the advances being made in aluminum-based metallurgy. But his advocacy campaign didn't make much headway with the government until he and his companies were penalized by the U.S. as part of a wider pushback against what the Treasury Department called Putin's "generally malign" activities.
The sanctions essentially severed Rusal from the international financial system, roiling the aluminum market, ravaging the ruble and threatening Russian jobs. State media outlets responded by lashing out at what they characterized as imperial American overreach, swelling public support for government action -- a mood shift Deripaska was waiting for.
"After the sanctions were imposed, the 'All Aluminum' motto became a regular topic at government meetings and Rusal was quick to intensify its lobbying efforts," said Kirill Chuyko, head of research at BCS Global Markets in Moscow.
Now Russian newscasts often trumpet the various, and sometimes unique, uses for the multifunctional metal that Rusal promotes. Last year's completion of the aluminum-based superstructure for Russia's largest flat-bottomed passenger ship made national headlines. (It didn't hurt that the 141-meter Peter the Great, which will ply the rivers of the Caspian region, was commissioned by Putin.)
State television has also touted the Rusal-supplied bridges that the Siberian city of Krasnoyarsk erected for the 2019 Winter Universiade, an international sporting and cultural event. In Moscow, it's been aluminum walkways along the Yauza River and a new aluminum overpass at the zoo that've been hailed.
Aluminum consumption in Russia has been growing much faster than the overall economy, about 6 percent a year since 2015. But at 7.5 kilograms per capita, demand is still only about a third of what it is in the U.S., China, Germany and other countries that have been quicker to adapt to developments in the industry, according to Alexey Rubtsov, a spokesman for the Aluminum Association.
"Only now are the watchdogs reviewing their attitudes toward aluminum and alloys," Rubtsov said. "Some of our regulations haven't been updated since the Soviet era."
Still, Putin hasn't given Deripaska carte blanche. Several of the tycoon's proposals to goose the pace of growth have been rejected, at least for now, officials familiar with the matter said.
One is tougher restrictions on selling beer in plastic bottles rather than cans, a move that would hurt petrochemical companies. Another is a special duty on imported bicycles and parts that was pitched as a stimulus for local manufacturing.
And formidable obstacles remain for Rusal to regain market share -- and the trust of investors. Rusal's Hong Kong-listed stock values the company at about $6.3 billion, less than half its pre-sanctions peak, even after gaining more than 25 percent since the start of the year.
But Rusal, with help from Russian regulators, has more avenues for potential growth now than it did nine months ago, according to Boris Krasnojenov, head of research at Alfa Bank in Moscow.
"As the sanctions saga made clear, raising the ratio of domestic sales is strategically important for Rusal," he said. "The target looks doable, particularly given that the government plans to increase spending on just construction alone by half."