Putin Sticks to Weak Climate Target as Other Nations Aim Higher
(Bloomberg) -- President Vladimir Putin promised to "significantly reduce" Russia's net accumulated emissions over then next three decades, but didn't set out any changes to the nation's unambitious targets.
Speaking via video link at a climate summit organized by his U.S. counterpart Joe Biden, Putin said that Russia, the world's fourth-biggest polluter, should be given credit for reducing emissions since the end of the Soviet Union and for the absorption capacity of its vast forests.
The world's biggest energy exporter is standing its ground as other major economies compete with more ambitious climate targets. The U.S., Canada, Japan and Korea all upped their commitments on Thursday, leaving Russia as one of the few countries in the Group of 20 that isn't aiming for net zero emissions.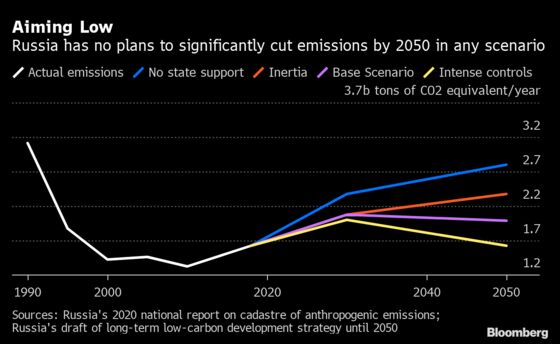 Russia's draft strategy on low-carbon development forecasts annual emissions to remain near current levels by 2050 under the most optimistic scenario. In a state-of-the-nation address on Wednesday, Putin said Russia's total net emissions over the next three decades should be lower than the European Union's, but that doesn't necessarily imply a change in policy since annual pollution from the bloc is currently about 2 1/2 times higher.
Russia currently emits about 1.6 billion tons of CO2 equivalent per year, compared to about 4 billion tons for the EU. The base case under the long-term climate strategy set to be adopted in Russia later in 2021 forecasts emissions of nearly 2 billion tons of CO2 equivalent in 2050, though that could be reduced to 1.62 billion tons under an optimistic scenario. The EU is targeting net zero emissions by mid-century.
On Thursday, Putin estimated that Russian ecosystems have the potential to absorb about 2.5 billion tons of CO2 equivalent per year. Carbon offsets aren't currently recognized as part of the Paris Agreement and have faced criticism from scientists who warn that, to avoid catastrophic global warming, greenhouse gas emissions need to be cut in half globally by the end of this decade.
Earlier in the week, Russia's parliament approved in its first reading the country's first ever legislation on carbon regulation and trading.