Golf Resurgence During Covid Boosts Puma as Nike, Adidas Miss Out
(Bloomberg) -- Golf is enjoying a coronavirus-fueled comeback, rewarding Puma SE for sticking with the club-and-ball sport.
Before the pandemic, golf was plunging in popularity, especially among millennials, who could add the sport to the list of cultural mainstays they were credited with destroying. Golf was too expensive and time-consuming and lacking in health benefits, the reasoning went.
Nike Inc. responded to the trend in 2016, ending sales of its golf balls, clubs and bags once made popular by Tiger Woods. Adidas AG followed suit, selling off its TaylorMade, Adams Golf and Ashworth brands.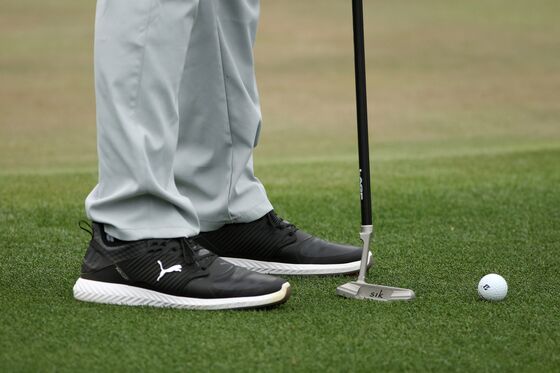 The smaller Puma bucked the trend, keeping the Cobra golf club brand it had acquired in 2010 even as the sport's popularity continued to slide -- in part because golf offered inroads with an older, more affluent demographic, Chief Executive Officer Bjorn Gulden said Wednesday.
And then came Covid-19, which has created a boom for sports that can be played outdoors and alone, from running to hiking to yoga. Puma's golf products are now growing at an annual rate of as much as 30%, according to Gulden, meaning the sport could become as profitable as others for the German company.
"People have been limited to certain activities," Gulden said on a call with reporters as the company reported earnings. "When golf has been open again, there have been more rounds played, and that means that more and more people are playing again."
Beyond Cobra clubs, the company also caters to the sport through Puma-branded shoes and apparel. The products are selling faster among all age groups in Asia, Europe and North America, according to Gulden.
"We can then be the cool brand in a little bit more conservative sport," Gulden said.