Puerto Rico's Top Bartender Is Shaking Up Cocktail Economics
(Bloomberg) -- Since it opened in 2013 in San Juan, La Factoría has been unquestionably the best bar in Puerto Rico. One of the best anywhere, in fact, a perennial entry in the World's Best Bars list. 
It's also one of the loneliest. 
La Factoría suffers from a problem shared by Beirut's Electric Bing Sutt, Cartagena's Alquímico, Delhi's Sidecar, Lima's Carnaval, Stockholm's Tjoget, and Tel Aviv's Imperial—being the only top-tier game in town. The lack of competition means these places are seen as spots for special occasions. They rarely break into the normalcy of a packed Wednesday night; weekends and holidays as a business strategy can only take a business so far.
Leslie Cofresí, a La Factoría partner who has become its public face, has developed a solution to his solitude, shaking up cocktail economics in the process.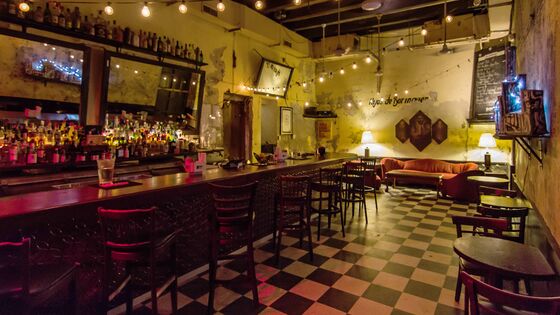 After years of being San Juan's go-to bartender for mixology events, Cofresí has leveraged supplier relationships into a business, Licorería Miramar. It's a commissary-style warehouse at which he and his Colectivo Icaro partners sell juices, garnishes, and craft ice at scale—not just for La Factoría, but for 20 clients that include the local Ritz-Carlton and Caribe Hilton (birthplace of the piña colada). Cofresí says Licorería handles the entire cocktail program for four clients, designing cocktails for the menu and supplying inventory.
The idea represents a pivot within high-end mixology, taking it from a niche, bar-by-bar program to a full-blown market that could reshape a city's nightlife fortunes. Consultancies, such as Proprietors LLC from the founders of Death & Co., have existed for years in the industry but are almost wholly focused on bars' debuts—not their later development.
"There comes a point where the cost of an apparently simple thing, multiplied by the volume needed, brings to light a series of hidden costs that aren't normally considered when scale is not a factor," says Cofresí. For prep work and mise-en-place, Licorería is akin to the cocktail industry's version of Blue Apron—for instance, supplying ready-to-use citrus garnishes. 
"The process of growing a business requires letting go of micromanaging a lot of simple things to focus resources on the things that really push growth," he continues. That many top-tier bartenders have notorious egos and wouldn't warm to a plug-and-play solution is an issue Licorería sidesteps by focusing on new growth.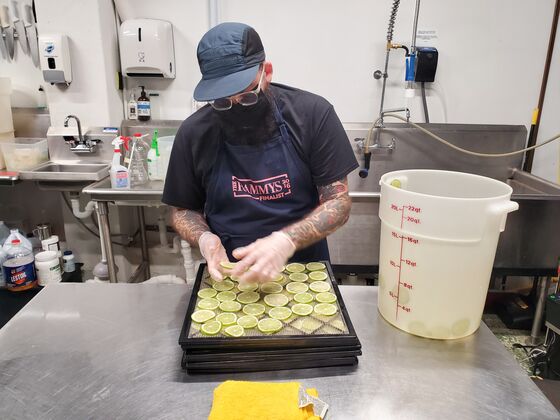 Put plainly, high-end mixology's artfulness has become impractical. What starter bar can afford a $800 centrifuge for clarifying juices or a $300 sous vide machine for optimal simple syrup—let alone train its staff on the gizmos? That's money and time thrown into long-term prospects instead of short-term profits.
Even simple tasks can weigh on ledgers. Consider more efficient uses for a $15 an hour worker than slicing fruit that's merely a drink accoutrement. Or the time lost in constantly reevaluating suppliers to see if their prices have changed since the last delivery.
Take limes: Cofresí says a case of the citrus varies from $38 to $65, spiking as high as $80 recently. By contrast, Licorería has locked in the price of a quart of lime juice at $19—the year-round average, according to Cofresí.
"It's a cheat sheet," says Micah Melton, beverage director of Chicago's Alinea Group and the influential Aviary bar. "Leslie's giving an NFL playbook to high school teams, so off the bat you're set up for success." He continues: "It's a great way to kickstart an overall cocktail city. You need that framework of four or five places, a culture of beverage. An operation like that helps jumpstart citywide culture."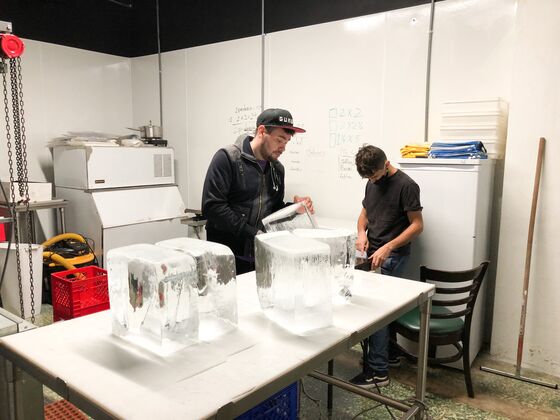 Not that the idea is without risk. "This only works if the person is doing the right thing well," says Don Lee, a New York titan of avant-garde mixology who ran the apprentice program at Tales of the Cocktail, the world's biggest bartending conference. He notes that if one thing is spoiled, it will be spoiled at multiple bars instead of just one.
"What's the acceptable risk?" he adds. "Even if I'm doing everything right, how do I trust they'll receive the stuff I'm giving them correctly? Refrigerate it properly? I wouldn't trust that." 
Undeterred, Cofresí is planning expansions that include using product from Licorería's own farms—such staples as ginger, mint, and passion fruit, as well as citrus—for end-to-end control. He calls it "farm to shaker." Regional operations in Colombia and the Dominican Republic are next. 
The Aviary's Melton believes the pandemic-recovery timing is right. "You have this golden opportunity to change the norm and adjust and adapt your business models," he says. "A new normal for a new clientele."