Protests Over Food Shortages Erupt in Chile Amid Virus Lockdown
(Bloomberg) -- Chile risks the return of the social unrest that wracked the nation late last year following protests against food shortages in the capital Santiago amid a tight lockdown aimed at slowing the spread of the coronavirus.
Dozens of protesters blocked traffic and threw rocks at police in the poor neighborhood of El Bosque in demonstrations that lasted most of Monday, according to videos posted on social media. Local media reported sporadic incidents in other parts of the city that were capped by pot-banging protests at night in several neighborhoods.
Santiago, one of Latin America's most prosperous cities, went into a strict lockdown on Friday following a surge in coronavirus cases, though many individual neighboorhoods, including El Bosque had been in quarantine for weeks. President Sebastian Pinera announced plans Sunday to distribute millions of food baskets to low and middle-class families struggling amid the hardship. Local police officials are warning that unrest may spread.
"There is no reason to hoard food or to engage in speculation," Agriculture Minister Antonio Walker told reporters on Tuesday.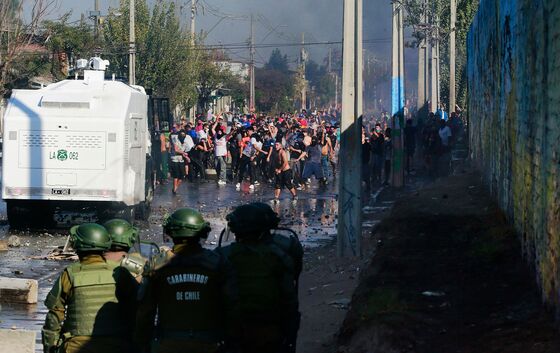 Pinera's administration is implementing stimulus measures equivalent to 7% of gross domestic product as the pandemic sends Chile into its worst recession since the early 1980s. Policy makers pledged to boost unemployment insurance and healthcare spending in the weeks before the latest measures were announced on Sunday night.
Strong interest in the food baskets prompted Pinera to follow up with another speech on Monday promising that distribution would begin as soon as this week. Local radio station Bio Bio reported that some municipalities such as Santiago's Renca district have been inundated with requests about the food program.
Complicating matters further are signs of accelerating price increases of food and beverages both in Chile and elsewhere in Latin America. Regionally, lockdowns have strained food supply chains while prompting some panic-buying.
Still, Walker said on Tuesday that the government has not observed changes in local food prices. Meanwhile, Marcelo Galvez, who is the CEO of Chile's third-largest supermarket operator, SMU SA, said in an interview on Monday that his stores are fully stocked.
The pandemic seemed to be under control in Chile in late April, before the number of new daily cases tripled. Those figures forced Pinera to backtrack on plans to allow people to resume normal activities. The Health Ministry reported a record 3,520 new cases on Tuesday with 31 deaths.
Pinera's administration is grappling with the virus following a period of social upheaval against inequality and poor government services that started last October. Pinera initially called in troops to quell last year's unrest before agreeing to measures including a plebiscite on a new constitution.