Thunberg Marches; More Nations Sign Methane Pledge: COP26 Update
(Bloomberg) -- Activist Greta Thunberg joined thousands of marchers in Glasgow, Scotland, protesting what they call "greenwashing" and empty talk at the COP26 climate meeting. Summit President Alok Sharma warned "the rubber will hit the road" next week.
There's been some progress so far -- including deals on phasing out methane, coal and fossil-fuel funding -- but some of the world's largest polluters aren't backing them, and a closer look reveals some important exceptions and loopholes. Much work also remains on establishing international carbon markets.
The summit is scheduled through Nov. 12, and next week's negotiations are expected to get deeper into the nitty gritty of how to walk the climate talk. Sharma added deadline pressure by saying he wants to finish on time, a rare occurrence at previous meetings.
BloombergNEF puts the odds of a meaningful summit at 47%
Protests begin in Glasgow and continue over weekend
U.S. climate envoy Kerry wants assessment of progress before 2030
Carbon markets stumble on use of cash
Greece wants to make its inhabited islands ecologically friendly
(All timestamps Glasgow, Scotland)
COP26 Shows Glimmers of Hope Despite Pledge Musical Chairs: BNEF (5:36 p.m.)
At the halfway point of the COP26 summit, prospects are rosier for making meaningful progress toward the goals of the Paris Agreement, according to a BloombergNEF analysis.
New pledges make it more likely global warming can be limited to 1.5 degrees Celsius above pre-industrial levels by the end of the century. If countries achieve those plans by 2030, global greenhouse gas emissions would be 13.7% above 2010 levels, according to a new UN report. That's an improvement from the previous estimate of a 16.5% increase.
But more work is needed to sway large economies to curb coal use, reduce funding of overseas fossil-fuel projects and boost climate finance for developing economies, BNEF said.
U.S. Unveils 'Earthshot' Plan to Prevent Leaks of Buried CO2 (4:54 p.m.)
The U.S. is trying to ensure that direct-air capture wells sequestering carbon dioxide are properly monitored to ensure they don't leak. The initiative is dubbed the "carbon negative earthshot."
Scrubbing CO2 from the air and storing it somewhere only benefits the planet if the gas is safeguarded underground. While that technology is still unproven to work at a large-enough scale, U.S. climate envoy John Kerry told reporters, "Huge amounts of money are now moving toward R&D."
Methane Pledge Gathers Steam With More Signatories (3:28 p.m.)
More countries have signed on to the Global Methane Pledge, pushing the total past 105.
The pledge is a collective commitment to cut emissions of the potent greenhouse gas 30% by 2030. It's perhaps the biggest single thing governments can do to keep alive the goal of limiting global warming to 1.5 degrees Celsius above pre-industrial levels. The U.S. will join and support the new International Methane Emissions Observatory, said Rich Duke, Senior Director and White House Liaison for Special Presidential Envoy for Climate John Kerry.
Earlier, Kerry said he met with Russian officials and has been talking with them "about how we might deal with methane and maybe possibly work together." The U.S. has been one of the primary backers of the pledge, but Russia isn't among the signatories.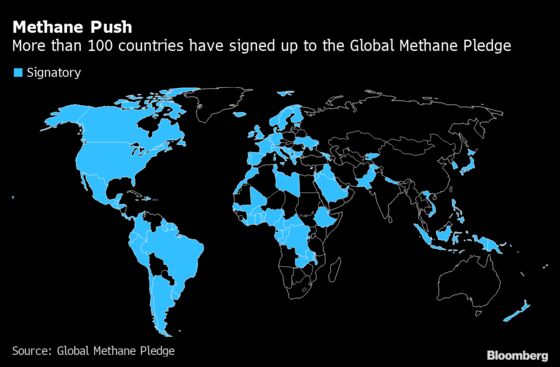 Thunberg's "Blah Blah Blah" Echoes Through Glasgow: (2:48 p.m.)
Thunberg's call for Glasgow to mobilize didn't fall on deaf ears in a city with a long history of protest. Police were expecting as many as 20,000 demonstrators to gather Friday as young people staged their climate strike.
On George Square in the city center, there was a mix of party and protest, with the crowd bouncing to a drum band. One protester carried a placard proclaiming he was "looking for a hot lover not a hot planet." Another climbed up the plinth of a monument to display a banner saying, "Your maths equals our deaths."
But one catchphrase seems to have caught on most on the streets around COP26: No more "blah blah blah," Thunberg's latest criticism of the world leaders who departed this week.
A Promise Isn't Always a Promise at COP26: BNEF (2:40 p.m.)
Some governments attending COP26 have gone back on commitments announced earlier in the week. The onus is on the U.K., the conference host, not only to get a grip on the logistical challenges but also to do as much as possible to avoid further cases of buyer's remorse, according to BloombergNEF. These weaken the standing of the pledges and the summit itself, which has been heralded as the last chance to save the planet.
Poland is the latest example of a country struck by second thoughts. It signed up to a commitment to scrap coal power by 2030s for "major economies" and by the 2040s for the rest. The government now says it won't phase out the fossil fuel until the later deadline.
COVID Cases Still Secret at COP (2:25 p.m.)
Organizers still aren't saying how many people have caught Covid at COP, but a summit official told reporters Friday that they weren't concerned.
Delegates are testing daily, though the implementation of social distancing rules in this massive venue, packed with delegates from around the world, has been mixed at best.
'Rubber Will Hit the Road,' Next Week, Sharma Says (2:18 p.m.)
COP President Sharma told reporters that next week the "rubber will hit the road" as negotiators try to hash out a deal on international carbon markets.
He warned that talks will be difficult, and noted that negotiators have been trying to reach a deal ever since 2015, when the Paris Agreement was first signed. "We've been discussing this for six years," he said. "People will find it astonishing" if negotiators fail again.
The so-called rulebook, which includes crucial talks on carbon trading, is one of the last pieces of the Paris Agreement that still need to be finalized.
Kishida's $100M for Hydrogen Aids Japan Inc.: BNEF (2:10 p.m.)
Japan Prime Minister Fumio Kishida unveiled in Glasgow a $100 million funding pot to develop hydrogen and ammonia power generation in Asia, on top of the $10 billion announced in May 2021. The finance will go toward its Asia Energy Transition Initiative, which is meant to support the energy transition in Southeast Asia.
However, the principal beneficiaries are due to be Japanese companies, as Southeast Asian countries have cheaper decarbonization options available than ammonia-to-power, according to BloombergNEF. Kishida may also hope that this pledge takes attention away from Japan not signing up to the "Global Coal to Clean Power Transition Statement" announced Wednesday.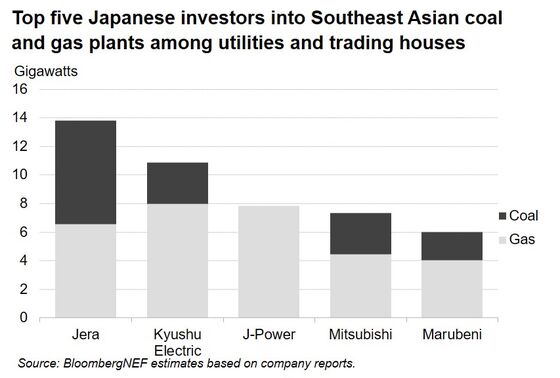 Kerry Wants Commitment to Assess Progress Before 2030 (2:04 p.m.)
U.S. climate envoy John Kerry and U.S. negotiators are still pushing to ensure a final decision document includes some commitment to revisit progress and strengthen commitments before 2030.
"Our goal is to have the most frequent possible measurement of what countries are achieving," Kerry said in a news conference. "If you're going to be real about this, and we are, you can't push out in the long-term future an assessment of where you are. It just doesn't make sense."
A global review is planned in 2023 to assess progress -- something Kerry said was critical to ensure emissions cuts are on track. "The evidence is mounting faster. Science is coming back faster. We're all moving, I think faster. And we need to know what the interaction of all of that is," Kerry said.
Why Japan Is Reticent Over Coal Pledges: BNEF (1:41 p.m.)
Japan was a notable absentee from the 40 or so countries that signed up to a new COP26 initiative to move away from unabated coal-power generation. Over the past year, the country has increased its commitments to tackle climate change by setting a more ambitious 2030 emission-reduction target as well as aiming to achieve net zero by 2050, according to BloombergNEF. Yet it's still wary of moving away from coal too quickly.
The government has cited energy security as one of the primary reasons for its continued support for coal power. Its 2030 target power mix is almost evenly shared between coal, gas, nuclear and renewables. The oil shocks of the 1970s and the impact of the 2011 Fukushima nuclear accident are still fresh in many minds.
Oxfam Highlights Global Inequality of Carbon Emissions (1:30 p.m.)
The wealthiest members of the world's population have been responsible for most of its carbon emissions -- and that trend is set to grow, a new study from Oxfam International shows. 
The group says that by 2030 the world's richest 1% are set to have per capita consumption emissions that are 30 times higher than what's needed to keep the planet on the 1.5 degree Celsius pathway that's needed to avert the most extreme impacts. Its share relative to poorer countries is set to be "even greater" than when the Paris Agreement was signed six years ago, the organization said. 
Sharma Tells Negotiators to Get a Move On (12:27 p.m.)
As the first week of COP26 draws to a close, summit President Alok Sharma has warned negotiators that they can't go into the second half of the talks with so many unresolved issues at stake. "The time to shift the mode of work is fast approaching," he said in a statement late Thursday.
Questions remain over the future of carbon trading, loss and damage, as well as the key issue of how to ramp up ambition in the 2020s. Sharma told delegates to hurry up with finding solutions ahead of an informal stock-take on Saturday evening.
U.K. officials are keen to have this year's talks finish on time next Friday in order to send a positive signal to the world. But the last 13 COPs overran, and they admit it seems unlikely.
IEA Chief Sees Lack of Focus on Effects of Green Transition (11:53 a.m.)
While the transition to climate neutrality is expected to create more jobs than it displaces, the political attention being paid to the inequality is "extremely weak" and "worrying," said Fatih Birol, executive director of the International Energy Agency. 
Birol was speaking at a panel Friday on the economic and social costs of the shift. European Commissioner for Energy Kadri Simson said told the same group that it the quest for climate neutrality would be a "transition of hearts and minds."
Iceberg "Hits" Glasgow (11:35 a.m.)
An iceberg has been delivered to COP26 from the Arctic to highlight the impact of climate change. The four ton block of ice, originally part of a larger glacier, was brought from Greenland to Glasgow by climate scientists from Arctic Basecamp, a science communications platform.
"What is happening in the Arctic is only the tip of the iceberg of the climate emergency," said Gail Whiteman, Professor of Sustainability at the University of Exeter Business School. "This iceberg may not be inside the negotiation rooms in the Blue Zone, but it's here and too big to be ignored."
Protests are starting to kick off around Glasgow, with school children in small groups waving banners and calling for action. Along the River Clyde, groups of campaigners are marching, and the police presence seems to have been beefed up. At least for now, it's all pretty polite.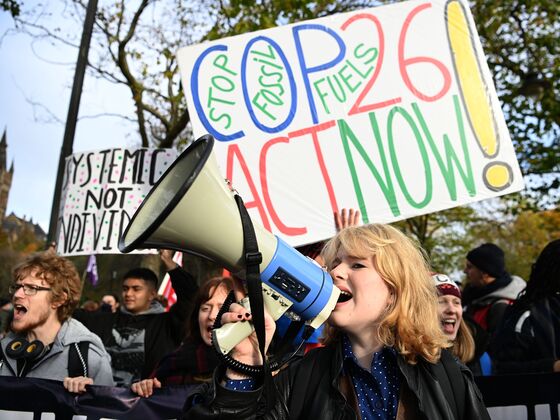 Biden Considers Oil Release From Strategic Reserves: Granholm (10:59 a.m.)
U.S. President Joe Biden is "looking at" a potential release from the Strategic Petroleum Reserve after OPEC+ rejected a request for a larger output increase, U.S. Energy Secretary Jennifer Granholm said in a Bloomberg TV interview. 
The president is very concerned about gasoline prices and will have more to say about the possibility of a stockpile release, she said. Biden attended COP26 earlier this week, where he said the U.S. is ready to lead the fight on climate change.
Indonesia Says $48 Billion Needed to Shut Coal Plants Earlier (10:13 a.m.)
Indonesia, the world's largest exporter of thermal coal, can shut coal plants emitting 89 million tons of carbon dioxide earlier with $48 billion of investment.
Southeast Asia's largest economy can retire 9.2 gigawatts of coal power plants before 2030 with investments in renewable energy projects, Arifin Tasrif, the energy and mineral resources minister, said in a statement. Without the funds, Indonesia plans its first phase coal plants retirement in 2031 and its last coal plant in 2055 instead.
Indonesia is among the countries that have signed a pledge to transition away from coal, while stopping short at agreeing to halt construction of new plants.
Heineken CEO Wants More Government Action on Climate (10:06 a.m.)
Heineken wants governments to do more to address climate change, Chief Executive Officer Dolf van den Brink said, adding that some businesses are already moving faster than lawmakers on the issue. 
In an interview with Bloomberg Television, the CEO said he's leaving COP26 "partly worried about the political process," but hopeful about public-private partnerships.
Carbon Market Proposals Show Much Work Remains (9:20 a.m.)
New draft proposals on international carbon markets showed countries are still far apart on how to use the revenues generated by carbon trading. They also differ on issues such as accounting and the use of credits from the now-defunct Clean Development Mechanism, the previous United Nations emissions-reduction program. 
While the 2015 Paris Agreement's Article 6 paved the way for the use of markets in the fight against climate change, their launch requires a set of detailed, technical provisions in order to function. 
Talks will move to a higher level next week, when ministers are scheduled to arrive in Glasgow. Heated negotiations are expected to continue until the last day of COP26, due to end Nov. 12. Previous conferences have often run a day or two longer than planned.
Banks Are Seen Needing More Oversight on Climate (9:00 a.m.)
While the pledges made by global financial firms to target net-zero emissions are welcome, they'll require more clarity and consistency to ensure that goal is actually reached, according to Cynthia Cummis, director of private sector climate mitigation at the World Resources Institute. 
"One important metric to look at is what is the rate of finance invested in fossil fuels versus the capital flows going to climate finance," she said in an interview with Bloomberg Television's Maria Tadeo. "If you look now, the rate of finance going into fossil fuels is more than twice as large as the capital going into climate finance."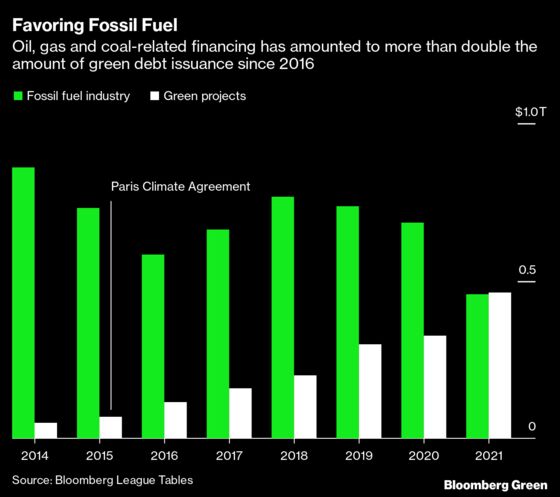 Separately, ShareAction CEO Catherine Howarth said the Glasgow Financial Alliance for Net Zero appears to set inconsistent standards for asset managers and banks -- with the former facing a higher bar. Too many GFANZ members from the banking sector continue to provide finance to new fossil fuel projects, she added, also in an interview with Bloomberg Television.
Southeast Asia Coal Phaseout Pledges Aren't Equal: BNEF (5:35 a.m.)
Indonesia, the Philippines, Vietnam and Singapore joined over 40 other countries in a pledge to wean off coal power generation, but the extent of their commitment differs, according to BloombergNEF.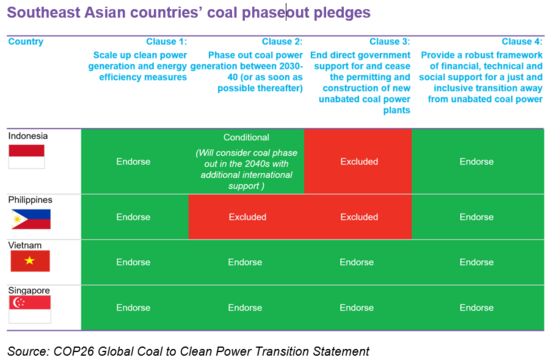 Vietnam is the most aggressive through its commitment to all clauses under the pledge given the 20.4 gigawatts of coal power plants it currently has. In a confusing move, Indonesia and the Philippines held back from committing to end direct government support and to cease the construction of new coal power projects despite both countries introducing a moratorium on new coal power projects earlier. Both countries also stopped short of agreeing to phase out coal power generation.
Just Catching Up on COP26?
Thursday was Energy Day at the conference. Here's a quick recap.